Watch: Elephant saved from drowning in Ganga in 2-hour rescue operation
Officials saved the elephant by diverting the water flow and guiding the animal to an exit point.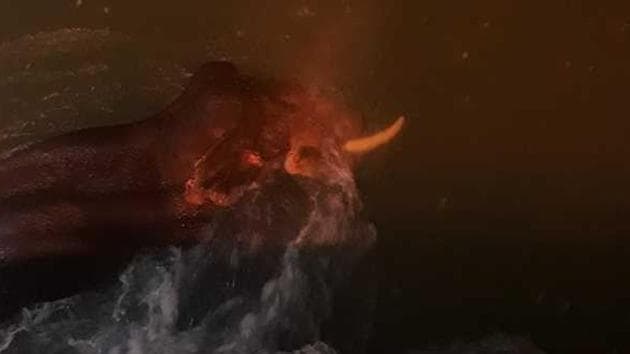 Updated on Mar 15, 2018 06:27 PM IST
A 40-year-old wild male elephant was on Thursday saved from drowning in the Ganga in Uttarakhand's Rishikesh after a two-hour rescue operation, officials said, in the first such incident in the Himalayan region.
Raju Nautiyal, the range forest officer of Gaurhi range of Rajaji National Park, said watchers at the Chilla barrage first spotted the elephant stuck between the gushing flow of the Ganges and a channel.
They thought the elephant will manage to come out of the water but the current was so strong that the animal was struggling, he added.
"We were informed around 2.30am and the team was there (at the barrage) within minutes. We made a strategy to save elephant by diverting the water flow and guiding the animal to an exit point. Finally, we did it in two hours operation" Nautiyal said.
"We coordinated with the barrage officials, stopped the water supply in the canal for a few moments and at the same time opened a gate towards the main course of the Ganga river. It was well synchronised and happened very fast. The animal was flushed into the river and reached the shore from where he was escorted to the forest," the ranger added.
Nautiyal, who monitors the movement of tuskers in his range, identified the elephant and said he remained "calm and friendly". The official said elephants are good swimmers and drowning is something unusual.
The pachyderms from the reserve often come to the Ganga to quench their thirst after the 144 megawatt Chilla canal and power project built in 1984 blocked the elephant corridor.
Officials suspect that the rescued elephant could have slipped or pushed in the barrage lake by another young male involved in a territorial fight with him.
According to last year's report of Project Elephant, a wildlife conservation programme, there are 1,839 elephants in the Himalayan state out of 27,312 across the country.
Close Story
Personalise your news feed. Follow trending topics