Facing threats, Muslims fail to open shops in Uttarakhand town a week after mob violence
Muslim traders shut their shops at Ghansali on July 30, a day after a youth from their community was caught with a Hindu minor girl at a hotel, triggering mob fury.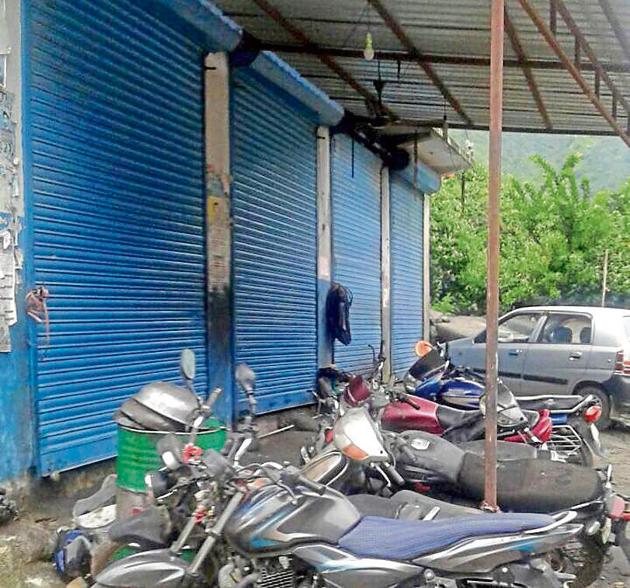 Updated on Aug 06, 2018 10:19 PM IST
Almost a week after communal tension erupted at Ghansali in Uttarakhand's Tehri Garhwal district, Muslims failed to open their shops and some of them fled the town amid threats.
Muslim traders shut their shops at Ghansali on July 30, a day after a youth from their community was caught with a Hindu minor girl at a hotel, triggering mob fury.
A mob of nearly 250 people thrashed 18-year-old Azad Alvi after he was caught with the girl, and paraded him with a garland of shoes around his neck. Police rescued Alvi and later booked him for rape. The mob ransacked 13 shops of Muslim traders in the Ghansali market.
Two Muslims opened their hair-dressing shops on Sunday, but they closed them again after some youths threatened them. The two Muslims fled Ghansali for their homes in Bijnour district of Uttar Pradesh.
"After the incident, I closed my hair-dressing shop fearing an escalation of tension and went to my village in Bijnour. On Sunday after returning to Ghansali, I found the environment peaceful and decided to open the shop," said 46-year-old Shamshad who has been running his shop in Ghansali for the last 22-years. "But as soon as I opened the shop, an unidentified youth came to my shop and asked me to close it and never open it again."
He said he saw the youth for the first time in Ghansali. "Such an incident never happened with me in Ghansali. I have four kids to feed and don't think I can open the shop. I had to borrow for bus fare to Bijnour," said Shamshad over the phone from Bijnour.
Dilshad Ansari, 26, who was also forced to shut his shop, said, "Only I and Shamdhad dared to open the shops. About half an hour after I opened my shop, eight youths asked me my name. When I told them my name, they had a scuffle with me and asked me not to open the shop again."
Ansari returned to his home in Bijnour on Monday. He and Shamshad approached the police who assured them of action but after a few days.
"They asked us to keep shops closed for the next 3-4 days citing the tense environment. Police said they have identified miscreants against whom they will take action. We know no action would be taken," Ansari said
Zulfiqar Mansuri, who owns a furniture shop in Ghansali for last 13 years, said their community was targeted for the act of an individual.
"I returned to Ghansali on Saturday and came to know that at least eight families, who owned vegetables and meat shops, have left the town. Yesterday, I roamed in the market to get to know about the environment before opening my shop. But after the two incidents, I got afraid and kept it shut," Mansuri said, claiming that some people linked to BJP and Hindu right-wing organisations are threatening them.
"It is wrong to target a community and ask us to shut our business. We want the government to assure safety of our property and lives."
Hindu traders' body leader Saheb Singh Komain, who claimed to be a member of a right-wing group, said they have not asked anybody to leave the market.
"But after what happened on July 30, Muslims should themselves leave the town if they have self-respect. They should be ashamed of what one of their community members did with a minor Hindu girl," Komain said over the phone. "We will not tolerate such incident in the town. We never indulge in such activities with their women."
Tehri Garhwal district magistrate Sonika said she was not aware of Muslims fleeing Ghansali. "No Muslim from the town has told me that he has been asked to shut his business and leave. It's a free country and everybody has a right to live freely and run his own business. I would initiate an inquiry into the matter," the DM said.
"If the local police have asked the two Muslim traders to close their shops for the next few days, then it must have been done after analysing all aspects. Action would definitely be taken against all the accused."
Attempts to contact Tehri Garhwal senior superintendent of police Yogendra Rawat failed.
Meanwhile, the Congress accused the BJP of trying to polarise the society for political gains. "BJP always stirs up communal issues to polarise society before elections. How can one target the entire community based on a single a youth's act. I will take up this issue with chief minister," said Congress state president Pritam Singh.
BJP state president Ajay Bhatt said, "No BJP member has been involved in such incidents. BJP and its government treat all citizens equally by protecting their rights and freedom. It is Congress which plays the politics of polarisation which is proved in the recent NRC issue."
Close Story
Personalise your news feed. Follow trending topics