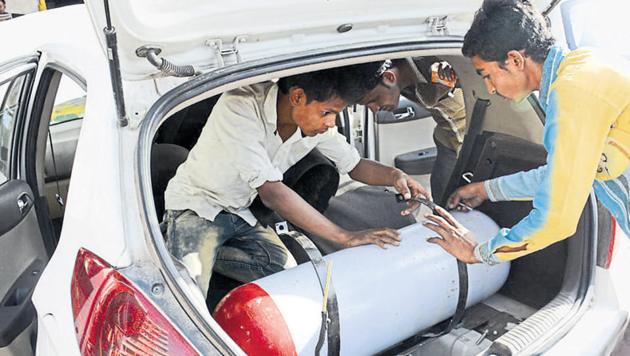 GAIL proposes piped gas for Dehradun, govt yet to take call
CNG is a cleaner alternative to petrol and diesel for running vehicles while PNG can replace LPG cylinders. GAIL officials say the piped gas can help improve the quality of the air in Dehradun, which has been ranked 31st among world's most polluted cities by World Health Organisation
UPDATED ON MAY 05, 2017 08:09 PM IST
In big initiative towards providing clean energy, the Gas Authority of India Ltd (GAIL) has offered to bring compressed natural gas (CNG) and piped natural gas (PNG) to Dehradun. GAIL has already made a proposal in this regard but the state government is yet to take a call.
CNG is a cleaner alternative to petrol and diesel for running vehicles while PNG can replace LPG cylinders. GAIL officials say the piped gas can help improve the quality of the air in Dehradun, which has been ranked 31st among world's most polluted cities by World Health Organisation in a list released last year.
Gajendra Singh, director (marketing), GAIL, told HT that they are already working on laying a gas pipeline till Haridwar as part of Delhi-Meerut-Roorkee-Haridwar green corridor project aimed at providing CNG beyond city limits.
"We simply need to lay the pipeline between Haridwar and Dehradun. The pipeline shall cover the satellite towns as well. Once laid, the pipeline will provide CNG for automobiles and PNG for homes and industries," Singh said.
Singh said the GAIL officials recently met chief minister TS Rawat in New Delhi and made an offer. "State government has to take a call. We are ready to give a detailed presentation before CM and ministers," he added.
GAIL has to its credit 15,000-km long pipelines covering several major cities. The authority also has a pipleline till Kashipur, 200 kms from state capital. It is currently supplying gas to 22 industries, including three gas-based power plants in the Kashipur region.
Singh said the GAIL was ready to bear the cost of the pipeline if it was granted exclusive rights to set up CNG stations in Dehradun. Moreover, under the mission mode project, union petroleum ministry was committed to provide gas on cheaper rates.
"Dehradun is witnessing burgeoning pressure from rapid urbanisation. City is not able to cope up with the growing pollution levels and therefore CNG could be best option to convert Doon into a green city," the GAIL official added.
Government's spokesperson Madan Kaushik said government will look into the proposal. "We will discuss the proposal soon," he added.
Close