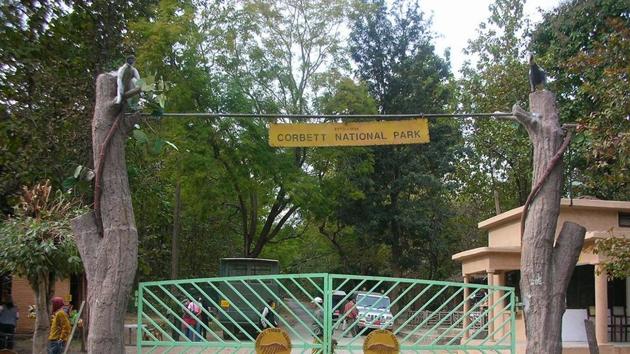 HC constitutes empowered committee to check encroachments around Corbett
The Uttarakhand high court on Thursday constituted a four-member empowered committee to check encroachments of land around Corbett Tiger Reserve in Nainital and Almora districts
PUBLISHED ON JUN 14, 2018 09:50 PM IST
The Uttarakhand high court on Thursday constituted a four-member empowered committee to check encroachments of land around Corbett Tiger Reserve in Nainital and Almora districts.
The directions were by the division bench of justices Rajiv Sharma and Lok Pal Singh while hearing a public interest litigation filed by Mayank Mainali, chairperson of Ramnagar-based NGO Himalayan Yuva Gramin Vika Sanstha in 2012.
The petitioner highlighted the environmental concerns around the Corbett Tiger Reserve following construction of hotels, resorts and other properties around it.
CK Sharma, counsel of the petitioner, said the committee has been asked to check documents related to the land in the possession of the hotel and resort owners and then physically verify the same on the ground-level to check the extent of encroachments there.
Senior advocate BC Pandey, Shobit, Anjali Bhargav and Mahavir Singh Tyagi are members of the committee.
On June 1, chief secretary Utpal Kumar Singh, in an affidavit submitted before the HC, stated that 44 resort owners around Corbett tiger Reserve had encroached revenue and forest land in Nainital and Almora districts.
The affidavit lists encroachments by each resort, the action taken by the authorities like eviction and lodging of the cases against the encroachers.
The petitioner said of the 44 resorts, 30 have encroached upon the revenue land while 14 have encroached the forest land, including the catchment of the Kosi river.
Following the PIL, the lawyer said cases for encroachment of land were filed against 13 resort owners in the HC and in case of others in the court of the sub-divisional magistrate concerned.
The HC in its order on February 17 directed the chief secretary to file a detailed affidavit, listing the number of resorts in the vicinity of Corbett Tiger Reserve who had encroached the land and riverbed and were violating various norms and what steps the government had taken to remove these encroachments.
Located in Nainital district, Corbett National Park is one of the oldest national parks in India and it has played a key role in Project Tiger initiation.
This protected Himalayan habitat houses rich biodiversity including around 110 tree species, 50 species of mammals, 580 bird species, 33 species of reptiles, seven species of amphibians and so on.
Close