Himalayan Viagra disappears under snow, hunters unhappy
Hunters of a Himalayan fungus -- popularly known as 'Himalayan Viagra' -- are experiencing a huge drop in its availability as a thick layer of snow has covered the higher ranges of Himalayas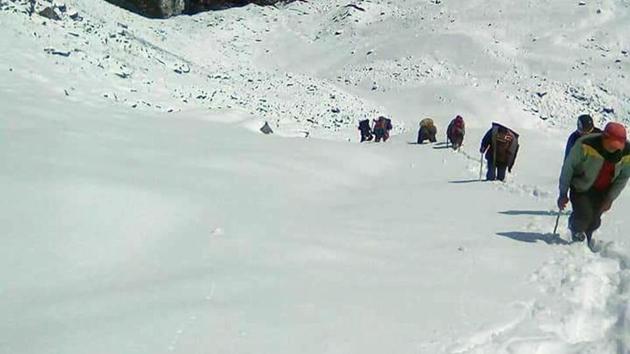 Published on May 11, 2018 10:24 PM IST
Joshimath, Hindustan Times |
Arvind Moudgil
Hunters of a Himalayan fungus -- popularly known as 'Himalayan Viagra' -- are experiencing a huge drop in its availability as a thick layer of snow has covered the higher ranges of Himalayas.
Locals hunt the precious herb, locally known as 'Keerajari' and 'Yarsagumba', that appears in meadows in May and June when snow starts melting.
Himalayan Viagra - found at the higher Himalayan ranges – helps to increase libido in both sexes.
Many locals have come down from the higher ranges in Chamoli district because of snowfall and may have to wait a bit longer to try their luck.
"Couple of villagers have left their ration in the tents and came back to their respective villages because there is still 3 to 4 ft thick layer of snow in the higher ranges," said Sanjay Kunwar, a trekker from Baragaon village.
The villagers would wait for another 10 to 15 days for the snow to melt, he said.
Devendra Singh, a social worker from Wan village, told HT that the villagers have come back from the higher ranges such as Bhagubasa, Shila Samundar and Kelvavinayak because of the heavy snowfall and would go back again in couple of days.
People of about 45 gram sabha in Joshimath block wait anxiously for May and June as 'Keerajari' has brought prosperity in their homes, said Sunil Singh, another villager in Baragaon.
Himalayan Viagra is priced very high in the international market and fetches ₹2 to 5 lakh per kg.
People of Dasholi, Ghat, Urgam valley, Niti valley, Deval and Joshimath blocks of Chamoli district start transporting their belongings and ration to the higher ranges much before May and stay put in the higher ranges for at least two months, searching the precious herb.
Close Story