Historic Shivalingas found in Uttarakhand's Champawat
Hindustan Times, Rudrapur |
Mohan Rajput
Sep 21, 2018 11:58 PM IST
Experts claim the structures date back to the 12th century and belong to the Chand dynasty.
Historic shivalingas (an abstract representation of Lord Shiva) were found near a temple in Champawat district of Uttarakhand three days ago. Experts claim the structures date back to the 12th century and belong to the Chand dynasty.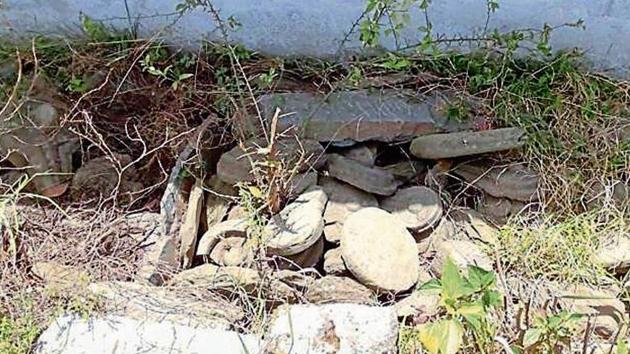 Historian Devendra Oli, senior research fellow associated with union minister of culture said nearly 500 to 800 shivalingas were found hidden in the bushes near an old temple dedicated to Lord Shiva in Old Block Colony in district headquarters.
"Shivalingas may belong to the 12th century when Chand king, Bharti Chand ruled here. He was fond of architecture. He constructed several temples in Kumaon," Oli said.
"Chand rulers were devotees of Lord Shiva and would place shivalingas in their forts and temples. It seems there might have been a workshop (production unit) at this place where Shivlingas were carved out. There's a possibility that these structures were supplied to other parts of Kumaon as well," he added.
On finding them, the district administration has written to Archaeological Survey of India (ASI) for their protection.
SN Pandey, district magistrate Champawat, said, "I have written to Archaeological department to find out the historic and religious connection of the shivalingas."
The actual age of the structures could only be ascertained through carbon dating, Oli said.
MPS Bisht , a renowned geologist from Dehradun, said, "It is difficult to talk about them unless studied carefully. Nothing can be said without inspection. Since Uttarkhand used to be known as Kedar Khand, our ancestors had been worshippers of Lord Shiva. Therefore, shivalingas are found in abundance in our state."
Locals, however, are thrilled with this incident. "I was born and brought up here, but never seen shivalingas in such an abundance. There are hundreds of shivalingas, fully and partially carved, lying in the heart of the district," Satish Joshi, a social activist and resident of Champawat, said.