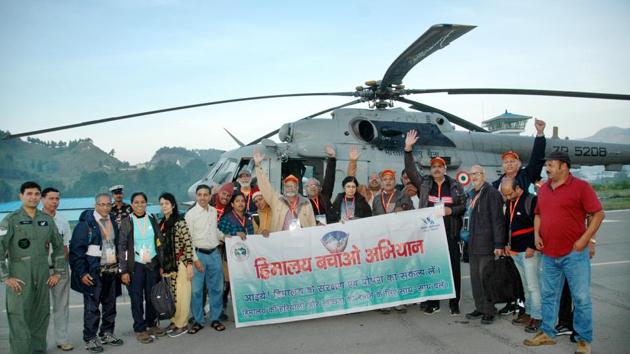 IAF choppers lift stranded Kailash Mansarovar pilgrims from Gunji
At least 58 pilgrims, stranded at Gunji in Pithoragarh district after paying obeisance at Kailash Mansarovar, were airlifted by IAF helicopters to Naini-Saini Air Strip in the district on Tuesday
Haldwani/Pithoragarh | By Abhinav Madhwal/BD Kasniyal
PUBLISHED ON JUL 24, 2018 10:12 PM IST
At least 58 pilgrims, stranded at Gunji in Pithoragarh district after paying obeisance at Kailash Mansarovar, were airlifted by IAF helicopters to Naini-Saini Air Strip in the district on Tuesday.
They had been stranded at Gunji that falls on India-China border due to inclement weather condition for the past one week.
A similar number of onward pilgrims were airlifted from the air strip to Gunji, from there they will enter China to pay obeisance at Kailash Mansarovar.
Kumaon Mandal Vikas Nigam (KMVN) general manager TS Martoliya said there was hope now that a total of 18 batches would be taken to Kailash Mansarovar till September 8. KMVN is the nodal agency for yatra in the state.
External affairs minister Sushma Swaraj tweeted: "I am happy to inform that all Kailash Mansarovar Yatris stranded at Gunji (Uttarakhand) have been evacuated and brought to Pithoragarh by IAF helicopters. With this normal movement of Yatris has recommenced."
On July 23, she tweeted, "We have 115 Kailash-Mansarovar yatris stranded at Gunji (Uttarakhand) due to inclement weather. They are being looked after by ITBP and Kumaon Vikas Mandal. As weather conditions improve, they will be airlifted to Pithoragarh."
Martoliya said after a week-long delay, 9th batch is now at Pithoragarh and 10th batch at Chaukori and 11th batch at Bhimtal, which is waiting for orders to move further up.
Notably, the yatris are being taken from Pithoragarh to Gunji by aerial route as land route is broken up due to landslides.
Close