India to count tigers the way Corbett does
Updated on Jan 29, 2018 10:16 PM IST
At Corbett Tiger Reserve, officials created 2sqkm grids instead of 4sqkm but kept the camera trap count same. This will be replicated in all other tiger reserves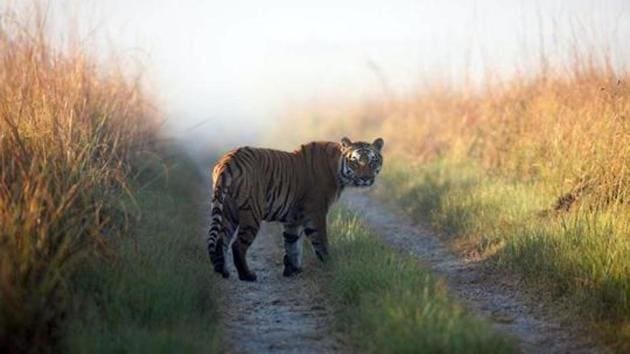 As country starts counting its tigers, officials in the reserve forests across country would be adopting a technique that Corbett Tiger Reserve (CTR) first implemented, and with positive results too, to monitor the stripped cats.
Going against the established norm of creating 4square kilometer grids to install a pair of cameras, the officials at the CTR created 2sqkm grids for the camera traps. Cameras in smaller grids, CTR officials said, ensured better accuracy of tiger count and helped them in easy monitoring of the big cats.
"In 2016-17, we installed a pair of cameras in 2 sqkm grids to get more accurate results and it helped. We have shared this information with the directors of other reserves and they have agreed to follow the same method for counting tigers in their respective areas," said CTR director Surendra Mehra.
The reserve directors were apprised about the new camera trap method during a meeting at the Corbett earlier this month, Mehra said.
As per Mehra, barring CTR, all the other reserves had installed camera traps in 4 sqkm grids.
"One camera trap in a 4 sqkm grid was the uniform method. We experimented by reducing the grid size by half but keeping the camera count same," Mehra said, adding a total of 535 camera traps were installed in CTR.
The pan-India estimation, held every four years, has already begun. The tiger estimate is based on data assimilated through camera traps and scat collection — the latter being used for DNA-based estimation. As per the officials involved in the process, the photographs obtained from camera traps are fed into a "population size estimator" software, which, based on the field conditions of the terrain involved, gives different estimations of the population size. For 2014, the lower and upper estimation was 1,945 and 2,491, of which 2,226 was considered to be the closest proximity.
Bhivash Pandav, a tiger expert at Dehradun-based Wildlife Institute of India (WII), meanwhile, said the installation of camera traps in smaller grids is helpful only if a the park or reserve has dense tiger population.
"The camera traps in 2 sqkm grids will give a tighter picture in a place like Corbett but it may not necessarily help in an area like Jharkhand, where tigers are limited," said Pandav.
India is home to more than 2,200 striped big cats, or nearly 70 per cent of the world's total tiger population, of which an estimated more than 600 are outside the reserves. As per the All India Tiger Estimation (census) in 2014, Corbett had highest estimated tiger population at 215, followed by Bandipur (120 tigers) in Karnataka and Kaziranga Tiger Reserve (103) in Assam. When it comes to total tiger population, Uttarakhand, with an estimated 340 tigers is ranked at second spot, after Karnataka, which had 406.
In 2016-17, the CTR held a phase IV monitoring of tigers as suggested by National Tiger Conservation Authority (NTCA). The data suggested that tiger count at CTR was at 208, up by 45 from 163 in 2015.
The last All India Tiger Estimation in 2014 had covered 473,580 sq km of forests, including 44 tiger reserves, in 18 states. The ongoing census will cover 50 tiger reserves and it is expected that the preliminary findings will become available by May this year. The ongoing survey will also cover new terrain in Uttarakhand , after the big cats were discovered in 2016 beyond 3,000 metres altitude in the Kedarnath (Chamoli and Rudraprayag district) and Askot wildlife sanctuaries (Pithoragarh district).