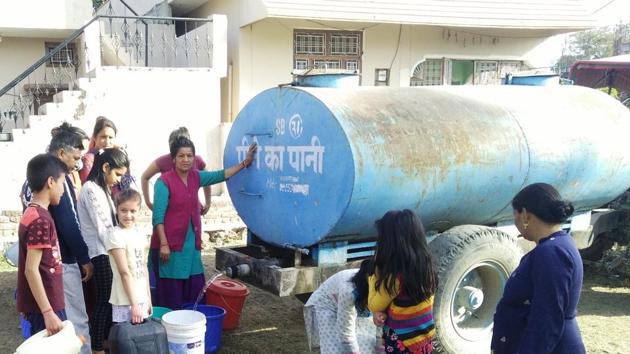 Long-term plan to resolve water scarcity in Uttarakhand
In a bid to resolve recurring water scarcity, the state government is planning a long-term plan under which potable water supply would be ensured for each household by 2022
PUBLISHED ON APR 06, 2018 10:05 PM IST
In a bid to resolve recurring water scarcity, the state government is planning a long-term plan under which potable water supply would be ensured for each household by 2022, water resource minister Prakash Pant said here on Friday.
"Besides, we will soon introduce a short-term scheme as part of our plan to tackle the recurring water crisis in the hills and plains, which rears its head with the onset of each summer," said the minister.
"To chalk out a strategy in that connection, I will be holding a high level meeting of officials on April 10," he said.
Pant said both short term and long term plans, aimed at managing the water crisis, would be carried out on a water footing.
"To ensure an effective implementation of the short-term plan we have already cancelled leaves of officials," he said.
"Officials of the water works department wouldn't be allowed to avail of their leaves during summer unless there is some emergency."
Under the short term plan, 700 localities in the hills and plains that might face acute water scarcity in summer would be covered. "Arrangements are being made so that potable water could be supplied to all those (700) localities in the summer months."
In that connection, a helpdesk would also be set up, which would cater to all 700 localities.
"Besides, landline and mobile numbers of officials manning the help desk will also be publicised among the people through news papers, so that people could approach them (officials)," the minister said.
Pant said in all there were some 39,967 localities across the hill state.
"As per the World Bank specifications, it is mandatory to fulfil the 40 litres water per day per capita requirement of individuals in rural areas," he said. "Similarly, in towns those (World Bank) specifications come to 135 litres per capita per day."
The minister, however, admitted that the World Bank specifications couldn't be applied to some 17,100 of the total 39,967 (localities).
"We will, therefore, soon introduce a long term plan to ensure that we are able to meet the World Bank specifications with regard to those 17100 localities," he said.
Giving details, Pant said under the long-term plan, a water policy was being drafted.
"It is being drafted under a law currently being formulated, which aims to regulate the unchecked extraction of ground water," he revealed.
"Under the proposed law taxes would be levied on extraction of ground water, so it could be conserved and rainwater harvesting could also be made compulsory."
Plans were also afoot to "augment water in some 5,000 natural springs, which are a major source" of potable water supply in the hills.
"As part of that initiative, geo mapping of all those (5,000) natural springs is currently being carried out so that we have the data relating to their discharge," he said, adding the "availability of the database will help us" identify the natural springs with dwindling discharge.
"To augment discharge in all such natural springs, saplings of trees would be planted in their catchments," Pant said.
He, however, said both short-term and long-term plans would be implemented under two separate schemes.
One of these would be funded under the National Rural Drinking Water Programme (NRDWP).
"For the other scheme, loan will be provided by National Bank for Agriculture and Rural Development," Pant said.
Close