Post immunisation: Uttarakhand safest for kids, records least casualties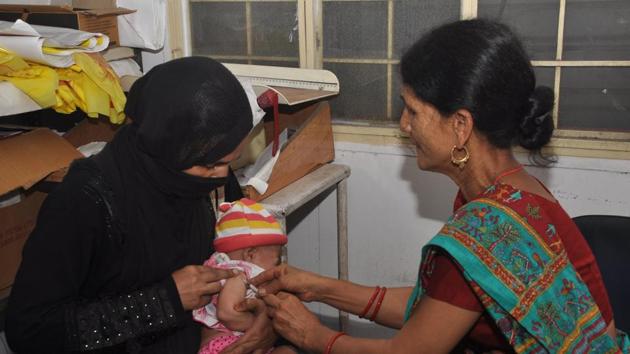 Published on Mar 14, 2018 09:42 PM IST
For a change, there is some good news from Uttarakhand's public health sector.
In the past eight years, the state has recorded the least number of deaths caused due to Adverse Events Following Immunisation (AEFI) among 21 large states in the country.
Between 2010-11 and 2017-18, seven children died in the state due to AEFI. There were no deaths in 2010-11 and 2013-14; two deaths in 2015-16, and one death each in the remaining years. For 2017-18, the data is available till December 31, 2017.
This information was made public in a reply submitted by the Union ministry of health and family welfare in the Lok Sabha on March 9.
Uttarakhand's performance gains significance because it comes at a time when there has been an 894% rise in deaths due to AEFI in the country between 2010-11 and 2016-17.
From 37 deaths in 2010-11, the figure reached 368 in 2016-17. Overall, 1,713 children died due to AEFI in the last eight years in India.
The World Health Organization (WHO) defines AEFI as "any untoward medical occurrence which follows immunisation and does not necessarily have a causal relationship with the usage of the vaccine".
The adverse effects can be in the form of high grade fever, pneumonia, bacterial abscess caused due to unsterile injections, fainting, rashes, vomiting, among others.
Speaking about the state's performance, Dr Archana Srivastava, director general, health, said, "This was possible because we gave emphasis on improving the quality of training imparted to our ANMs. We even roped in doctors from medical colleges for this purpose. Recently we vaccinated nearly 28 lakh children in a campaign mode and there was no case of AEFI."
The latest report of the NITI Aayog on health index also stated that the state has achieved 99.30% complete immunisation as on 2015-16.
Dr Bharti Rana, state immunisation officer, said, "We ensure that the cold chain of vaccines is maintained at all stages. Severe AEFI are witnessed generally when damaged vaccines are administered due to negligence. For this, our ANMs have been trained on checking vaccine vile monitors (VVM), using BCG and Measeles vaccines within four hours of breaking the seal and using only auto-disposable syringes."
She added that besides these parents are also regularly counselled about vaccines.
Meanwhile, in comparison to Uttarakhand, neighbouring Himachal Pradesh recorded 10 deaths while 54 children died in Gujarat, 200 in Bihar, 29 in Jharkhand, 48 in Haryana, 20 in Punjab and 34 in Chhattisgarh. Uttar Pradesh was the worst-performing state with 253 deaths in the past eight years.
What can be also seen as a positive indicator for the quality of immunisation in Uttarakhand is the fact that the state has fewer deaths than many states that have a considerably smaller population and geographical area.
Tripura, Meghalaya and Mizoram are much smaller than Uttarakhand, but the number of death due to AEFI therein is 29, 12 and 15, respectively.
Overall, Nagaland, Sikkim and Manipur are the best-performing states with 1, 2 and 3 deaths, respectively. Among all states, Uttarakhand is at the 5th place.
Asked about the factors that can lead to deaths due to AEFI, Dr Srivastava said, "There can be many reasons. For instance if the cold chain of the vaccine is not properly maintained, if the vaccines have not been checked prior to being injected, the ANMs is not well trained to handle syringe and needle etc."
The ministry in its reply also informed that deaths due to AEFI are reported, investigated and monitored by committees at the district, state and national-level under the National Adverse Events Following Immunization Surveillance System.
"Most of the death cases analysed by these committee has found that they are not causally related to vaccines used in the Universal Immunisation Programme," the reply said.
Overall, it is estimated that every year approximately 39 crore doses of various vaccines are administered to children under the Universal Immunization Programme in the country.
BLURB: Uttarakhand's performance gains significance because it comes in the backdrop of an 894% rise in deaths due to AEFI in the country between 2010-11 and 2016-17
Close Story