Shortage of arms with Uttarakhand guards, hits fight against mining mafia, wildlife criminals
Dec 03, 2017 08:51 PM IST
Days after the BJP stormed to power in Uttarakhand, a beat watcher was crushed to death by a tractor trolley when he along with several others gave a chase to vehicles laden with illegally mined riverbed material near the banks of Kosi River in Ramnagar
Days after the BJP stormed to power in Uttarakhand, a beat watcher was crushed to death by a tractor trolley when he along with several others gave a chase to vehicles laden with illegally mined riverbed material near the banks of Kosi river in Ramnagar.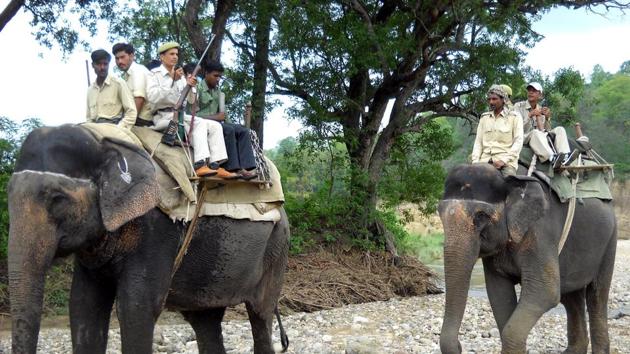 The brazen killing of Pehelwan Singh by the mining mafia was then billed as the first major political test for the newly installed Trivendra Singh Rawat-led BJP government. Singh's murder on March 24 took place hours after members of a quarrying mafia fired upon a beat officer near Baur river in Kaladhungi.
Earlier, on March 22, a tiger killed a forest guard while he along with two other officials was returning after routine patrolling in Kalagarh range. Another forest guard was killed on May 18, this time by a leopard, in the forest adjacent to the Rajaji Tiger Reserve. The forest guard was on night patrol and was apparently killed while he was returning from duty.
They weren't the first incidents of mining and quarrying mafia or wildlife and wildlife criminals taking on the mountain state's "first line of defence" in fight for conservation. They won't be last too. What, however, has remained baffling is the sheer inadequacy of the efforts put in to arm this "first line of defence".
Sample this: Forest department has employed 2,432 guards to protect 24,240 sqkm of forest cover. This effectively means one guard protecting at least 10 sqkm area. To arm the force guarding the forests, the department has only 1,248 guns, including 69 tranquiliser guns. In other words, it is one gun for every two forest guards. If sources in the department were to be believed, nearly 50% of these guns are old and rusted and not fit for use.
The previous Congress government had two years ago written to the Union Ministry of Home Affairs (MHA), proposing to buy arms worth Rs 2.5 crore. The Centre is yet to respond to the proposal.
"We wanted to buy more guns for the field staff but cannot do so without the MHA permission," Digvijay Singh Khati, chief wildlife warden, told Hindustan Times.
The field staff thus, remains at the receiving end. "A forest guard has to face the severity of nature while in the field. He does not even have a weapon to safeguard himself, forget chasing away criminals," RR Penuily, general secretary of forest guard association, said.
Over a dozen attacks on forest guards by the mining mafia have already been reported this year. Some lost lives and some were left injured. However, there's no plan in place to secure the lives of people who defend the forest cover and wild animals.
"The focus of the government is to increase the revenue. They are promoting tourism in general and also tourism in wildlife areas. But, they aren't doing anything to double the manpower or keep these people safe," an activist said requesting anonymity.
So, how do the guards defend themselves in the field? "We have walkie-talkies to spread the word about infringement or anything illegal. We don't have weapons and we patrol the forest with sticks," Kirtam Barthwal, a forest guard of Thano range in Dehradun forest division, said.
Apart from the criminals, the guards also have to deal with the wild animals. Corbett Tiger Reserve, which is home to 215 tigers, reported three deaths of field staff in last one year. All victims of tiger attack.
"I will address this issue and talk to the Centre for upgradation of the arms," Harak Singh Rawat, forest minister, assured.
"Exciting news! Hindustan Times is now on WhatsApp Channels
Subscribe today by clicking the link and stay updated with the latest news!"
Click here!