U'khand officials 'on their toes' to arrange 50K people for yoga day event
The Uttarakhand government's directive for ensuring participation of 50,000 youth in the international yoga day main event here on June 31 is keeping "officials on their toes"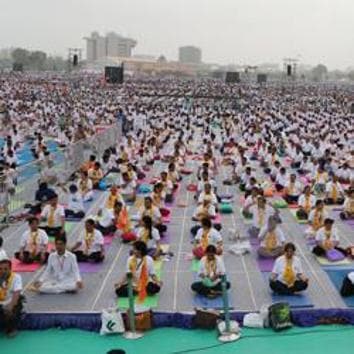 Updated on Jun 12, 2018 08:54 PM IST
The Uttarakhand government's directive for ensuring participation of 50,000 youth in the international yoga day main event here on June 21 is keeping "officials on their toes".
Prime Minister Narendra Modi will lead the event to be held at the sprawling Forest Research Institute ground.
"Half-a-lakh individuals attending in one event will be a kind of record for this state… Ensuring participation of such a huge gathering will also be an enormous task for us," a sports department official said on condition of anonymity.
"Hardly 40,000 people had attended a wrestling show here two years ago that saw participation Great Khali and other international wrestlers," the official said.
A letter issued by Ayush secretary RK Sudhanshu on June 8 has directed many departments to ensure the target set for participation of people in the International Yoga Day.
Sudhanshu did not mention the number of participants. However, the government in its Facebook page has set the target for 50,000 participants.
Officials familiar with preparations of the event said yoga guru Ramdev has also pitched in to make the International Yoga Day programme a success. Volunteers of organisations founded by him have already started mustering participation of people from Haridwar.
Religious organisations like Rishikesh-based Paramath Niketan and Haridwar-based Gayatri Pariwar have also been roped in by the government, said the officials.
Officials of different departments are already on their toes to "ensure" that the target is met.
The sports department, for instance, has been directed to ensure participation of 3,000 youth.
Of the total target, its youth welfare wing will have some 1,050 youth ferried from Tehri and Haridwar districts apart from Dehradun district. The sports department will ensure participation of 1,200 youth from Dehradun.
Besides, it will also have 1,000 NSS volunteers ferried from different areas of Derhadun and Haridwar districts.
"About 550 youth belonging to Tehri and Haridwar districts will be brought by buses to Dehradun -- a day ahead of the event and will be put up in different state run hostels," a sports department official said.
On the International Yoga Day, all youth will be rushed in buses to a central point near the venue at 2:30 am. "From there they will cover the distance up to the venue on foot so that they reach there by 5:45 am as the Yoga Day programme will start sharp at 6 am," the official said.
Higher education secretary Ashok Kumar admitted that a broad target for participation of youth and other sections of society has been set. "But nobody is being forced to participate as the participation in the yoga day function has been kept voluntary," he said.
Chief secretary Utpal Kumar Singh said responsibilities "have been delegated to officials regarding preparations" for the proposed event.
"All arrangements including transportation will be made for participants depending upon the requirement," he said.
Close Story