Latest from international yoga day
The 'Ghat Par Yog' events were organised at nearly 145 locations in Ganga main stem states, including Uttar Pradesh (60), Uttarakhand (30), Jharkhand (150, Bihar (36) and West Bengal (4).


Updated on Jun 22, 2022 06:59 PM IST
The two-day exhibition was inaugurated on Tuesday morning by Prime Minister Narendra Modi, who earlier led a mass demonstration of Yoga at the iconic Mysore Palace.

Published on Jun 22, 2022 01:46 PM IST
Delhi chief minister Arvind Kejriwal said the government plans to teach schoolchildren yoga and ensure that every person in the Capital practices yoga daily


Updated on Jun 22, 2022 03:41 AM IST
Are you worried about pre-menstrual syndrome (PMSing) symptoms such as abdominal pain, cramping, headache, mood swings, fatigue, irritability and depression? Doctor reveals how doing Yoga on a daily basis can help to manage period pain, have smooth periods and stay healthy during menses.


Updated on Jun 21, 2022 09:19 PM IST
By
Zarafshan Shiraz
, Delhi
Maldives President Ibu Solih condemned the disruption of the Yoga Day celebration in Male. This is being treated as a matter of serious concern and those responsible will be swiftly brought before the law," he said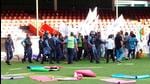 Updated on Jun 22, 2022 04:09 AM IST