UFDC, mining dept officials, ministers meet to resolve dispute
Updated on May 20, 2018 10:10 PM IST
The dispute between the UFDC and the mining department over quarrying dues will now be decided by the government in a meet`ing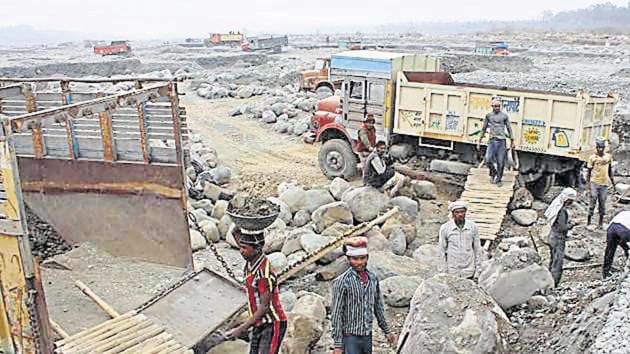 Hindustan Times, Haldwani |
Abhinav Madhwal
The dispute between the Uttarakhand Forest Development Corporation (UFDC) and the mining department over quarrying dues will now be decided by the government in a meeting, to be attended by the secretaries and ministers of the two departments.
Meanwhile, quarrying on the banks of Gola river will continue, said sources familiar with the developments.
The mining department had announced to stop quarrying on the Gola river from Monday, following a tussle with the UFDC over the quarrying dues.
The UFDC had given ₹2.71 crore as royalty and other purposes to the mining department last year. The corporation had closed quarrying on the river before the decided date, due to which the challans or ravanna could not be generated. The mining department had been saying that the money would be forfeited, as there were no proper challans, which has resulted in a dispute between the two parties.
Rajpal Legha, the deputy director of mining in the Kumaon region, said the government has intervened in the matter, as it did not want the quarrying activity to be disrupted even for a day, as it would lead to livelihood problem for around 25,000 labourers engaged in the job. The officials of both the departments would be summoned in Dehradun and the secretaries and ministers would mull the matter and find the solution.
"The sum of ₹2.71 crore eventually belongs to the Uttarakhand government, though it may have been deposited by the forest development corporation. The government would now see how the money can be managed and the forest development corporation is not penalised for its shortcomings," he said.
MPS Bisht, the regional manager of UFDC, said the matter is now being discussed in Dehradun and any solution or directive would be followed by the corporation.
Topics