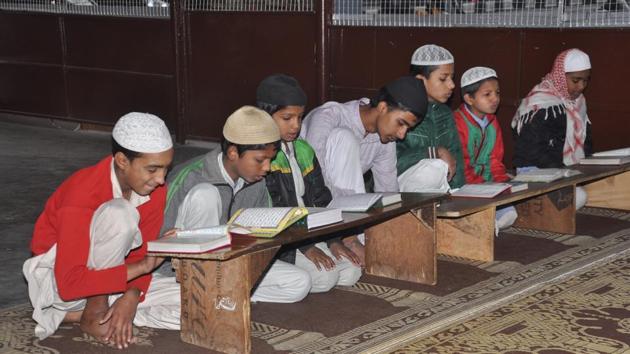 Umbrella group gives nod to Uttarakhand madarsa board certificates
An umbrella organisation for over 30 school education boards in the country has approved class 10 and 12 certificates given by the Uttarakhand madarsa board but said the government's nod in this regard is a must
PUBLISHED ON APR 02, 2018 10:02 PM IST
An umbrella organisation for over 30 school education boards in the country has approved class 10 and 12 certificates given by the Uttarakhand madarsa board but said the government's nod in this regard is a must.
Chances of green signal from the state government, however, are bleak, said official sources.
The Council of Boards of School Education in India (COBSE) is a voluntary organisation of all the boards of school education.
The madarsa board last year submitted a proposal before the council seeking its approval of validating the certificates at par with national and state boards.
They recently received the approval that is to be further approved by the state government.
"We have received approval from the COBSE and it will be sent to the Uttarakhand government for consideration," said Haji Akhlaq Ahmad Ansari, the deputy registrar of the madrasa board.
A similar proposal seeking equivalent status to 'munshi and maulvi' in Inter and High School was sent to the government earlier this year which was withheld.
The government has asked the board to strengthen infrastructure and quality of education in the madrasas run by it before considering the proposal.
There are 297 madrasas in Uttarakhand, of which only one — situated in Roorkee — is recognised by the state government. Remaining 296 madrasas are running on donations.
The problem with board degrees is that they are still un-recognised and do not help students in getting admission in colleges or even getting employment.
Last year, the director general of school education had constituted 34 committees to analyse the status of madarsas in the state.
During the analysis, irregularities related to infrastructure, delivery of education and distribution of mid-day meal were discovered in three madrasas of Udham Singh Nagar, following which their registration were revoked.
Sources familiar with the matter said the government isn't in a hurry to bring the madrasa degrees at par with the state board's degrees, as it "might lead to a business of degrees".
"The COBSE might have given approval to the madarsa board certificates. But, I don't think the government would approve it owing to poor infrastructure and quality," said Alok Shekhar Tiwari, director general of school education.
The board, however, rejected his claim. "COBSE is a government of India body and they minutely study all proposal only then approvals are permitted. The government should now approve our proposal especially when the council has approved it," Ahmad said.
The state government has directed the madrasa board to upgrade its schools with basic infrastructure, which includes separate washrooms for boys and girls, drinking water facility, power supply and furniture.
There are nearly 35,000 students enrolled with the madrasas in the state. There are 1,400 teachers to impart education to them.
Close