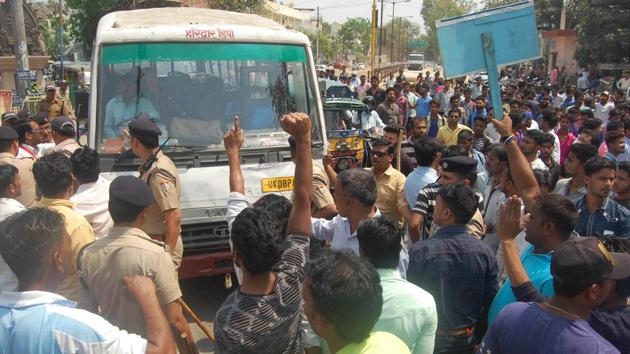 Under scanner: Uttarakhand govt staff who took part in Dalit protest
With involvement of many government employees in the Monday's Dalit protest coming into light, police and intelligence unit have started identifying them and compiling evidences for initiating disciplinary action
Hindustan Times | By Sandeep Rawat
PUBLISHED ON APR 06, 2018 09:12 PM IST
With involvement of many government employees in the Monday's Dalit protest coming into light, police and intelligence unit have started identifying them and compiling evidences for initiating disciplinary action.
During inspection of CCTV, media and social media footages by police, several government employees have been identified for creating ruckus, forcefully stopping vehicles, threatening traders to shut down their establishment.
A police personnel, currently posted in Dehradun, has also been identified, who was seen mobilising protestors in Roorkee and Haridwar.
Krishna Kumar VK, Senior Superintendent of Police (SSP), said a report has been send to Dehradun SSP Nivedita Kukreti for further action against the policeman.
He said law violators and anyone involved in creating vandalism will not be spared and more arrests are being made as soon as police is identifying the miscreants.
All the details are being thoroughly checked, regarding involvement of government employees, including, whether they had taken leave, reason of their leave or had they taken part in protest during duty hours, he said.
Till date, about 50 protestors have been arrested while cases have been registered against 4,500 unknown people across the district.
Police are also monitoring movement of those people, who staged a protest at Bhagwanpur police station on Thursday night, despite section 144 was imposed in the area. They were opposing arrest of five protesters.
Superintendent of Rural Police Manikant Mishra said at Civil Lines and Gang Nahar police stations, more than 3,000 cases were registered against people, who pelted stones on police personnel, vandalised shops, burnt vehicles and created ruckus during the nationwide band.
More than 15 people got injured in clashes in Roorkee during the protest.
The nationwide band was called against the Supreme Court's order "diluting" the Scheduled Castes and Scheduled Tribes (Prevention of Atrocities) Act.
Close