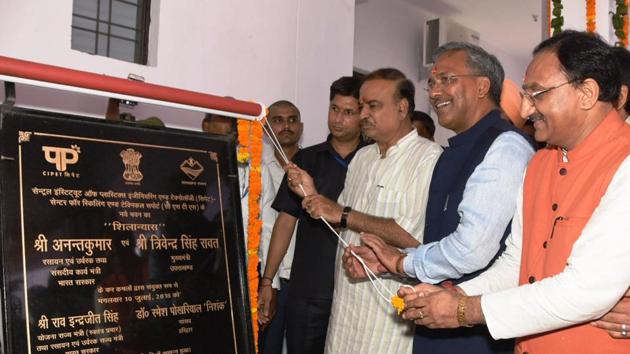 Uttarakhand gets plastic engg institute, two more units soon
Union chemicals and fertilisers minister Ananth Kumar on Tuesday inaugurated Central Institute of Plastics Engineering and Technology at Doiwala on the outskirts of the state capital
PUBLISHED ON JUL 10, 2018 09:28 PM IST
Union chemicals and fertilisers minister Ananth Kumar on Tuesday inaugurated Central Institute of Plastics Engineering and Technology (CIPET) at Doiwala on the outskirts of the state capital.
He also announced that two more units of CIPET would be set up in Uttarakhand.
"Students who will pass out from those three institutes would be ensured guaranteed placements," he said after jointly inaugurating the 32nd unit of CIPET with chief minister Trivendra Singh Rawat.
They also inaugurated a Skill Development and Technical Support Centre (CSTS) in Doiwala, the assembly constituency of Rawat.
"A set of 85% seats each in all three institutes will be reserved for students domiciled in the state," the union minister said, adding a B.Tech course on plastics engineering and technology would soon be introduced at CIPET in Doiwala.
Kumar announced that 100 more Jan Aushadhi Centres would also be set up in the mountain state.
"A plastic waste recycling unit will also be set up here (Doiwala) for recycling of plastics residues that will be generated at CIPET," Kumar said.
A high end Plastics Medical Devices Park would be set up in Sitarganj, for which the Centre had sanctioned ₹40 crore.
"It will be a specialised plastic manufacturing zone where high end medical equipment prepared from plastics would be produced," he said, adding some 5,000 local youths would get jobs in the Plastics Medical Devices Park.
"At CIPET in Doiwala alone some 3,000 students will be enrolled," Kumar said.
The chief minister said union minister Kumar had already approved his request for setting up a unit of CIPET at Dwarahat. "The third CIPET will be set up at Ghurdauri in Pauri, for which all expenses will be borne by the state government," he said.
Kumar said the central government had fixed the target of setting up some 50 units of CIPET across the country.
"These units will open the floodgates of ensured employment opportunities for the local youth in any area, be it road, automobile, medicine or aerospace engineering," he said, adding there were only 23 units of CIPET in the country before the BJP formed its government at the Centre following its landslide win in 2014.
"Since then nine more such centres have been set up across the country… we have set the target of setting up a total of 50 units of CIPET so that like the students enrolled in IITs those (enrolled) at CIPET could also land ensured quality employment," Kumar said.
On the occasion, the union minister announced the Centre's decision to return to Uttarakhand 833.25 acres of land currently owned by the Indian Drugs and Pharmaceutical Ltd (IDPL), a public sector unit.
"That portion (833.25) of land had been handed over to Uttar Pradesh long before Uttarakhand came into being. We have now handed over that land back to the people of the hill state in view of their long pending demand," he said.
"In that connection, I have already handed over a letter to the chief minister," Kumar said, adding that the total cost of the IDPL land returned to the Uttarakhand government came to Rs 20,000 crore.
"I have already handed over to the chief minister a letter approving the transfer of land from the IDPL to the state government," he said.
Kumar announced that out of the total (833.25 acres of) land, 200 acres would be allotted to the Rishikesh unit of the All India Institute of Medical Sciences (AIIMs) for its expansion.
"The rest (633.25 acres) of the land has been dedicated to Uttarakhand in deference to the locals' long pending demand," he said.
The chief minister said that a convention centre of the international level would be set up on that portion of the land (633.25 acres).
Rawat said the proposed convention centre to be developed as one of the state's major tourist attractions will be ready within the next five years.
Close