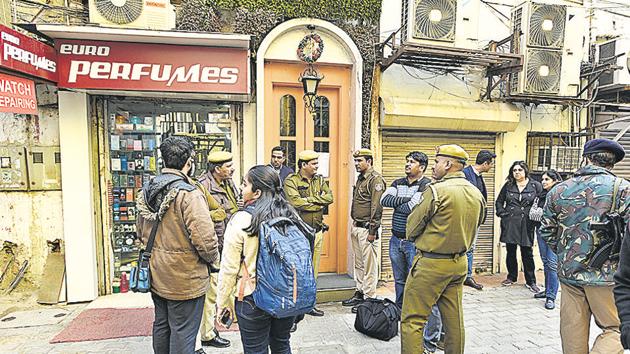 16 outlets face NDMC action on Day 2 of Khan Market sealing drive
Sealing only in conducted in sections of outlets not in compliance with civic norms, not entire establishments, say officials.
PUBLISHED ON JAN 09, 2018 11:39 PM IST
The New Delhi Municipal Council on Tuesday continued its inspection in Delhi's premium Khan Market for the second day and partially sealed shops and eateries for allegedly flouting municipal rules.
According to NDMC officials, 16 establishments, including restaurants like La Bodela, Mamagoto, Chatter House, Civil House, Parallel, Blue Door Café and Beer Café and outlets such as FabIndia, Raghavendra Rathore, Anita Dongre, Aquamarine and Shyam di Hatti, were found to be using terrace spaces for commercial purpose or had illegal construction.
"We conducted door-to-door inspections to check each of the establishments. Shops or eateries which have been using unauthorised outdoor spaces have been subjected to sealing action of only that particular space. Some outlets were not sealed, but instead have been asked to remove certain illegal fixtures," an NDMC official said.
A FabIndia spokesperson said, "NDMC officials inspected the establishment and directed us to produce documents for clarification. However, there was no sealing."
At La Bodela, according to an employee Amit, the officials have asked management to remove a metallic beam from the outdoor terrace area. At Chatter House, a portion of the terrace was sealed. "We need to submit an affidavit to the NDMC to get it de-sealed," Tirek Shrestha, an employee, said.
Civil House, a restaurant, was shut for the day after the sealing. "We have closed down for the day. We are in the process of getting some sections removed according the council's orders. We had a shed for water filter, which we will remove. Although we could have remained open today, but we chose not to do so due to reasons of hygiene," an employee, who wished not to be named, said.
On Monday, the terraces of four Khan Market stores — Affinity, Geetanjali, Jawed Habib and Aayna Clinic — were closed by officials of the NDMC and the police. The inspection team also issued warnings to four other establishments: Smokey's BBQ and Grill, Khan Chacha, Big Chill Café and Wok in the Clouds.
Khan Market Restaurant Association's president Anshu Tandon said, "Today things are much better. They are going to the rooftops and checking. If somebody had made storage on the third floor, it has been sealed... However, keeping water tanks, generators and RO machines should be allowed (on terraces)." He added that they have been trying to meet Union urban development ministry officials for relief for the establishments.
The action against Khan Market establishments came after direction from the Supreme Court-appointed monitoring committee, which had been inspecting establishments for misuse of land and illegal construction.
The committee comprises KJ Rao, a former adviser to the Election Commission; Bhure Lal, the chairman of Environment Pollution Prevention and Control Authority; and the retired major general Som Jhingan.
The NDMC and other municipal bodies, the expert committee, and the DDA have been involved with other raids throughout the city. Some properties in the Delhi's upscale markets were being used for dual purposes, with a shopping outlet on the ground floor and an eatery on the first and second floors. According to government rules, such mixed arrangements call for 'use conversion charges'.
In December, the committee directed civic authorities to seal the first floors and all higher floors of 51 shops and restaurants in the Defence Colony market for failing to pay the charges. Last week, the DDA encouraged shopkeepers to pay up by reducing the fees from ₹89,000 per square metre to ₹22,700 per square metre.
Close