Aamir Khan gave me the idea for a trick I do: Delhi-based illusionist Karan Singh
Psychological illusionist Karan Singh talks about his journey, how he started a new age of magic in Delhi, and how he got his inspiration for a trick from Bollywood actor Aamir Khan.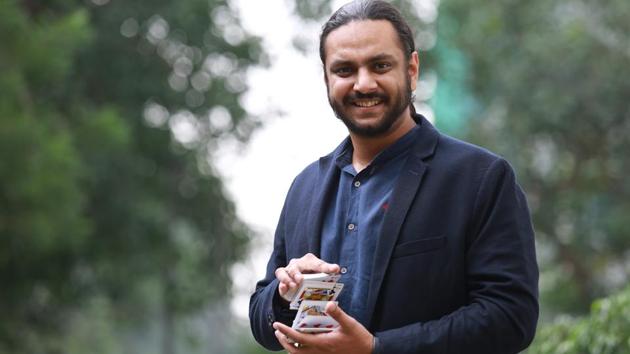 Updated on Aug 25, 2017 07:23 PM IST
There are magicians and then there is Karan Singh, a psychological illusionist who has managed to make a name for himself in a space that India now seems to be flooded with. The Delhi-based illusionist talks to us about his journey being a drop out of Delhi University's Shri Guru Teg Bahadur (SGTB) Khalsa college to performing for Bollywood celebs, and how he began a new age of street magic in the city by being different from the rest.
FROM A SCHOOL STAGE TO A MAGIC TOUR

"My first performance was in school. I was in the 10 grade, and I clearly remember the date was 30 January 2007, and it was the farewell of the 12th graders. Usually the guys from the 11th grade give the farewell, but since people knew I do magic, they asked me to perform. I spent 10 minutes on the stage, seven of which were spent in stage fright. When I did finally mustered the courage to pull-off a trick (it was a trick where the card a person chooses, comes out of their pocket) the audience erupted into applause. It felt like the ground had caved in and swallowed me whole, and that is when I realised that this is what I want to do."
"As far as my first commercial break goes, it was performing [on contractual basis] at kids' birthday parties that took place at a hotel near my house (in Surajkund). I used to dress up as Aladdin (because Disney used to be the theme) and perform tricks for the guests. I did that every weekend for a year, and from there I started getting corporate shows which were mostly through the parents who referred me to others who they knew. It felt great because I was making money from magic that I never thought I would. When I first performed a proper show at Siri Fort [Auditorium], I had made it an event for 200 (since I never expected more people to come), but on the day of the show we had 475 people in attendance. People were sitting on the stairs, standing on the sides, and that was an amazing feeling. My last proper tour, the Legilimens Tour, just concluded, and I feel that I've come a long way from that school stage."
FORMAL EDUCATION WASN'T FOR ME
"Initially my parents were a little apprehensive; I wasn't ever a good scorer so that was fair too. But, my parents were also not the typical kind — my dad wanted me to make money in whatever I did (as long as it was legal), and my mom wanted me to try new things. In addition to that, my mom always told me to have something to fall back if magic didn't work out, and I followed that by doing some internships here and there. I was however, always clear that it was magic that I want to do all my life. I joined Shri Guru Tegh Bahadur (SGTB) Khalsa College for BCom (Hons) too, but dropped out in third years since shows had already started to come in and I realised that BCom wasn't for me."
COMBINING MAGIC AND PSYCHOLOGY
"The first thing that people ask me as a magician, and this happens till date, is if I can make someone disappear! I had started with just sleight of hand and other traditional magic tricks earlier, but eventually realised that I needed to do something more to be different, that is when I started delving deep into the psychological side of magic. I remember that I'd got just 27.1% in my pre-boards, and my dad told me that he'd take me anywhere in the world if I scored 80% or above in the boards. I managed to do that, and asked him to take me to a lecture by David Blaine's director, which was happening later that year in Boston. And, it's there that my perception of magic really changed. There were about a 100 magicians attending the lecture and all of them were pretty much doing the same things; not similar but the exactly same things. So, I decided to combine magic and psychology, and that's what made all the difference for me."
LEARNING MAGIC
"I first learnt magic from a magician who was at a summer camp that I'd gone for, but since then it has mostly been self-taught. I became a practitioner of neurolinguistic programming (modelling and changing the patterns of mental and emotional behaviour through language), read up on almost all the source material I could find and replicated it. I also go for various magic conventions and always learn from them, and that is bigger to me than any formal education that I could get!"
"I look up to Harry Houdini (illusionist and stunt performer) and Derren Brown (English mentalist and illusionist), when it comes to magic. I go, every year, to see Brown perform and even did a trick on him in 2012. It was a great moment for me when I showed him a trick and he said 'I don't know how you did that!'"
"Unlike any other art form, magic requires a lot of reading. Magic for the first two-three years is about absorbing all that you can online, and practicing it. There is even a Netflix of magic that one can find if they dig for it. I won't really reveal that because it would kind of end the pursuit for new magicians and I don't want that. I'd advise any aspiring magician to dig deep and learn, and once they're done, they can reach out to me and I'd be more than happy to help."
AAMIR KHAN GAVE ME THE IDEA FOR A TRICK I DO
"I've performed for quite a few celebrities but if I had to pick the best three, they would be [actors] Vidya Balan, Jackie Shroff and Aamir Khan. Aamir is one person I really look up to and really enjoyed performing for. In fact, one trick I now do at my shows was something that he came up with. I was performing at his New Year bash and solved a Rubik's Cube in five seconds. That's when he just randomly said 'Yeh trick koi aur solve kare to maza aayega' (It will be fun if someone else solves this trick). And I decided to try that out. Now, I pick a random person form the crowd, blindfold and make them solve the cube in five seconds. The trick works every single time, even on someone who has never solved the cube before."
+
INSTIGATOR OF STREET MAGIC IN DELHI
"As cocky as it may sound, I'd like to take credit for that! Back in 2012, I started performing in Hauz Khas Village at a popular lounge. It became quite an attraction and soon other places also started hiring magicians to do the same at their joints. Hauz Khas Village was all the rage back then, and thanks to that, this idea kicked-off. Now you see magicians performing in Connaught Place, Rajouri Garden, CyberHub and more, and to me that is great! Getting entertained right at your table while you eat is something anyone would enjoy and magicians are making that happen."
Follow @htshowbiz for more
Close Story