BJP-ruled Centre has snatched away all our powers, says Delhi CM Arvind Kejriwal as he refuses to budge from L-G's office
Delhi chief minister Arvind Kejriwal has been on a sit-in protest for nearly a week after he demanded the Lieutenant Governor to intervene in an alleged IAS officers' strike.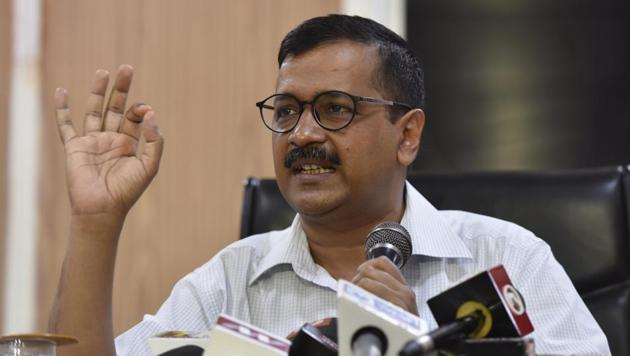 Updated on Jun 17, 2018 07:13 AM IST
Delhi chief minister Arvind Kejriwal and his three cabinet colleagues have refused to leave the lieutenant-governor's house till he concedes to their demand – that of asking the IAS officers posted in the Delhi government to call off their alleged strike. On the sixth day of their sit-in protest, when four other chief ministers landed in Delhi to show solidarity with Kejriwal in his protest, the Delhi CM took time to respond to some questions by this correspondent. A questionnaire was mailed to his office. The chief minister sent these answers from the 10X15 visitor's room at the lieutenant-governor's office.
It is going to be the sixth night of your sit-in. For how long do you and your Cabinet colleagues plan to continue with this protest?
The IAS officers' strike has stalled many projects of public good in Delhi. IAS officers don't attend meetings, don't take calls of ministers, and don't accompany the ministers for site visits. This is a very peculiar situation. After we came to power with a thumping majority in Delhi, the BJP-ruled central government snatched away all our powers. Today we cannot take any action against any erring officer. All this is being done intentionally at the behest of the Modi government at the Centre. However, the people of Delhi will collectively fight against this illegal strike. The people of Delhi will unitedly fight and win.
There is a point of view that governance of Delhi has become a farce and all that the government is interested in is scoring political brownie points. How do you respond to that?
This is totally untrue. We are here to fight for the people of Delhi. We need to firstly understand who is orchestrating this strike and why is it being done. In the last three years, despite creating numerous hurdles, the AAP government has done unprecedented work for the people of Delhi. Even our opponents believe the AAP government has done a wonderful job, especially in the fields of health, education, power and water. People across the country have started asking that if the AAP government has delivered so much in three years – such as providing free medicines, test and treatment in government hospitals, private schools have not been allowed to increase fees, etc., all in just a short span of time of three years, then why can't the other state governments where the BJP is in power, such as Madhya Pradesh, Chhattisgarh and Gujarat, follow suit? If the AAP government can lower power tariff in Delhi in three years, why is the BJP-ruled Centre unable to do so even in four years? Governments ruled by the BJP at the Centre as well as the states have been extremely unsuccessful. Therefore, they have devised a new way to stop the brilliant work done by AAP in Delhi – create so many hurdles that the AAP government cannot function at all. At their behest, all government officers are on strike. But I will continue my fight for the people of Delhi till my last breath. I will not budge till they put an end to the strike by the IAS officers and ask them to come back to work. These people are blackmailing the people of Delhi and holding them on ransom. I will not allow this to happen.
Have you tried to reach out to the other side, instead of taking them on? Isn't politics, governance and administration about making compromises to ensure implementation?
For the past three months, we have been trying to sort out the issue with the honourable L-G. We have requested him to personally intervene and put an end to the strike. I have met the honourable L-G at least four times during last three months, education minister Manish Sisodia met him four times, health minister Satyender Jain met him three times and labour minister Gopal Rai met him three times. We have written numerous letters to him on the issue. Every time we meet him, the L-G only says one thing – he will try to resolve the issue in one week. Despite so many meetings and letters, there has been no progress on the issue. They want the strike to continue. This strike has been orchestrated by the central government through the L-G. We are now convinced they want to paralyse my government so that no work can be done in the remaining tenure. It was then that we decided not to take things sitting down.
You have said it's not the IAS officers but others who are responsible for the standoff. Who are these others?
This strike is being orchestrated by the BJP-ruled central government through their L-G. The reason behind this is that despite so many obstacles created by the central government, even our staunchest political rivals admit that the Delhi government has done wonderful work in health, education, electricity and water sectors in just three years. The Modi government and the BJP state governments have no answers when people ask them about no fee hike by private schools in Delhi and free tests and medicines in Delhi government hospitals. It is precisely due to all this that the BJP has decided to now not let the Kejriwal government work.
There has been talk of a coalition with the Congress. Is there any truth to that?
The way the Congress has been siding with the BJP and supporting it on the Delhi L-G issue has angered and disappointed people.
Is it fair the administration is at a standstill when there is a pollution crisis and water shortage to be dealt with?
Our environment minister Imran Hussain had called an urgent meeting of all top officials, including the environment secretary and the Delhi Pollution Control Board (DPCC) chairman. However, they failed to turn up for the meeting. There is a regular meeting on air pollution every 15 days – since the last three months, this meeting has not take place due to the strike of IAS officers. This is a very unfortunate situation. Similarly, the water crises looms large on Delhi. But if the DJB officials do not pick up my calls or come to my meetings, then how will we function?
Let me give you some more examples: Officers have not attended the meetings to prepare for the desilting of drains before monsoon. This work is being affected; the dengue and chikungunya season follows the monsoon. Officers did not come for meetings on this issue too. This will have an extremely adverse effect on the health of people of Delhi. During the summer break, whitewash of schools is undertaken. This year, due to the strike by IAS officers, even this work has not started. Due to the strike, the work of setting-up mohalla and polyclinics has been stalled. The last instalment for completing the Signature Bridge has to be released, which is pending due to the IAS officers' strike. Work of laying roads and sewers in unauthorised colonies has either stopped or has considerably slowed down due to the strike.
Delhi has had chief ministers before, but why is it only now, during your tenure, that governance is facing such continuous turbulence?
That is what we have been saying. The Modi government through a notification barely three months after the people of Delhi elected our government with an unprecedented mandate in 2015, took away the power of transfers and postings of officers and also the ACB (anti-corruption bureau) from us.
The powers enjoyed by the Shiela Dikshit government were considerably reduced by the Modi government through its May 21, 2015, notification. It was aimed at paralysing the elected Delhi government.
Despite all these hurdles, the work of our government during last three years has been widely appreciated in India and abroad in the fields of health, education, electricity and water.
Will you meet the PM during the NITI Aayog meeting scheduled for Sunday and seek his intervention?
I have written to the honourable prime minister and appealed to him that before the Niti Aayog meeting, the strike of IAS officers be called off. If the honourable PM wants, the officers' strike will end within a minute.
Close Story