What is an anti-smog cannon? Delhi is counting on it to reduce air pollution
Hindustan Times |
Joydeep Thakur and Ritam Halder
Dec 20, 2017 05:22 PM IST
The anti-smog cannon will be used throughout the day with the monitoring station at Anand Vihar observing any changes in Delhi pollution levels. Here's how it works
The trial of "fog cannon" began at Anand Vihar ISBT — one of the pollution hotspots in Delhi — on Wednesday in an exercise that will be used by the Delhi government to observe the difference in pollution levels, if any.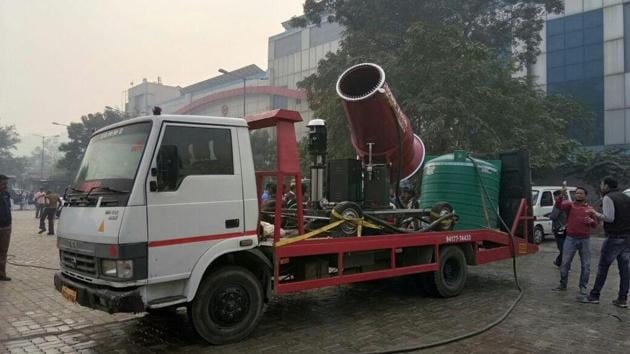 The fog cannon, also dubbed as the 'anti-smog cannon', comprises a cylindrical drum with a tank to store water and a high-velocity exhaust fan. The water is pumped from the tank to the exhaust fan which blows out water in the form of micro droplets. The theory is that the sprayed water will cling on to the pollutants — particularly particulate matter PM2.5 and PM10 — and wash it down creating the effect of rain. The current trials will be used to find if the theory holds true.
"The fog cannon has been designed to tackle the problem of airborne dust particles generated by open mining activities, demolition work and bulk material handling. This has been shown to suppress up to 95% of airborne dust particles. At present, our machines are being used at mines, thermal power plants and cement plants,"said Vimal Saini, director of Haryana-based Cloud Tech which designs and operates the fog cannon.
The anti-smog cannon will be used throughout the day with the monitoring station at Anand Vihar observing any changes in pollution levels. "Exactly how much reduction takes place will be possible to know through this exercise," Saini said.
On Monday evening, the functioning of the machine was demonstrated to deputy chief minister Manish Sisodia and environment minister Imran Hussain.
Delhi environment secretary AK Singh had earlier informed Lieutenant Governor Anil Baijal about the decision to use a "fog cannon" during a review meeting on the city's air pollution.