Delhi air quality deteriorates, likely to get more polluted in next three days
Updated on Oct 05, 2017 11:13 AM IST
While stubble burning continues in Punjab and Haryana causing air pollution in Delhi, meteorological conditions are making the situation worse. SAFAR has forecast that the concentration of pollutants is likely to shoot up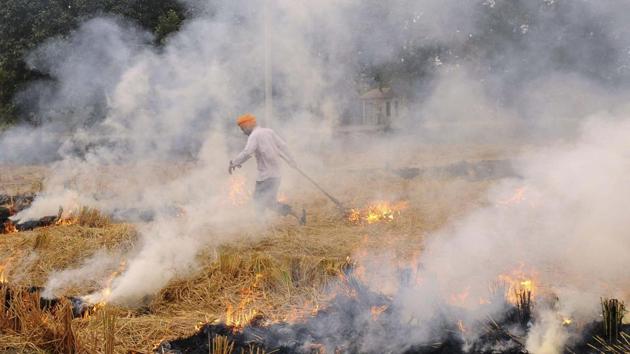 It is not winter yet and Delhi's air quality has started deteriorating. And, if the predictions by the System of Air Quality and Weather Forecasting and Research (SAFAR), under the Ministry of Earth Sciences, hold true, then it is likely to worsen over the next three days.
Experts said that the reason is two-fold.
On one hand crop burning – one of the primary reasons behind air pollution in Delhi during this time of the year — has begun in Punjab and Haryana, on the other hand meteorological conditions are aggravating the situation.
The Air Quality Index (AQI), maintained by the Central Pollution Control Board (CPCB), was 190 (moderate category) till Tuesday. It shot up to 219 (poor) on Wednesday.
"PM10 and PM2.5 have been found to be the primary pollutants, which are responsible behind this rise in air pollution in Delhi," said D Saha who heads the air quality laboratory of CPCB.
SAFAR, which is under ministry of earth sciences, has forecast that the concentration of these dangerous particles is likely to shoot up over the next three days. While PM10 level is likely to increase from 178 micrograms per metre cube to 192 micrograms per metre cube, PM2.5 level is likely to go up from 94 micrograms per metre cube 110 micrograms per metre cube.
"These are some of the major air pollutants and can affect our respiratory system. Even though the elderly, the children and those suffering from chronic respiratory and cardiac problems are particularly at risk, a healthy person could also be affected. Anybody can suffer from upper respiratory tract infections, breathing problems and burning of eyes when these particles are more in the air," said Dr A Mohan, a professor with the department of pulmonary medicine and sleep disorder at AIIMS.
Experts said that the pollution levels in the Capital depend on both ground activities and the wind pattern during this time of the year. And, presently both seem to be unfavourable for Delhi.
As 250 cases of stubble burning have been reported from Punjab over the last three days, the member secretary of Haryana Pollution Control Board S Narayanan said 63 cases more were reported till Tuesday. The Union ministry of environment and forest has convened a meeting on Thursday to take stock of the situation.
Officials of the regional weather forecasting centre (RWFC) said the north-westerly winds, which bring in pollution to Delhi from Punjab and Haryana, have also started blowing.
"An anti-cyclonic circulation has developed covering large parts of northwest India. This is triggering the north-westerly winds, which are now blowing over Delhi. The winds are not strong and have a speed of around 10 km per hour. Had the wind speed been more than 20 km per hour, it could have helped disperse the particulate pollution," said Kuldeep Srivastava a scientist with the RWFC.
Personalise your news feed. Follow trending topics