Delhi govt to launch 'Mission Buniyaad' to improve learning levels in primary classes
Published on Feb 19, 2018 10:34 PM IST
Education minister Manish Sisodia on Monday announced that 'Mission Buniyaad' is being launched in all government and municipal schools to target students of Class 3 to Class 8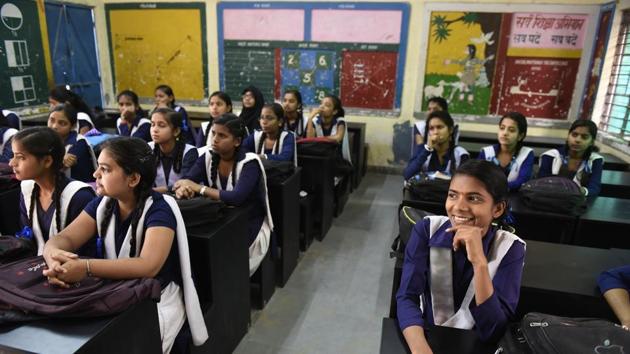 New Delhi: The Delhi administration will launch 'Mission Buniyaad' from April this year to improve learning levels of students attending primary classes in the state government and municipal schools.
The project is on the lines of government's previous scheme called Chunauti, which assessed students of Class 6 to Class 9 and divided them into three groups based on their learning levels.
Education minister Manish Sisodia on Monday announced that 'Mission Buniyaad' is being launched in all government and municipal schools to target students of Class 3 to Class 8.
The move comes after the National Achievement Survey (NAS) found that a majority of Class 3 to 5 students in government and aided schools performed abysmally in science, mathematics and languages.
Nearly 50% of the students studying in Class 3 of government, municipal and aided schools in Delhi were unable to prove their learning abilities in various subjects during the NAS conducted last year. The survey, conducted by the National Council of Educational Research and Training (NCERT), aimed to find out the learning standards of schoolchildren.
Sisodia said that the reading ability in secondary schools run by the government has improved by about 20% due to initiatives like 'Chunauti', however children in primary schools run by MCDs are unable to read their text books.
"The municipal schools will raise a cadre of teachers, who will drive the programme in a manner similar to the Mentor-Teacher Programme run in government schools. One teacher will take care of five schools and will train teachers of these five schools in enhancing readability of children," he said.
HT had earlier reported that south civic body launched project 'Buniyaad' to help its underperforming students. Officials from the three municipal corporations had said they are finalising the detailed action plan that will be implemented from next academic session.
Under Buniyaad, students will be divided into three categories. Those who perform at par will be taken into the 'Ujjawal' group; those who score medium-level marks will be placed in 'Utkarsh' while those who are behind their peers will be placed in 'Udyam'.
The entire programme will run from Classes 3 to 5 in MCD schools and in Classes 6 to 8 in government schools, he said. The scheme will run for three months from April to June. The students will be assessed on reading abilities and basic mathematics before being divided into groups for focused teaching.
Sisodia also requested parents to cancel their vacation plans during summer holidays and send their children to school for remedial classes.
Close Story
Personalise your news feed. Follow trending topics