Delhi's happiness curriculum begins July 12, to include 'gratitude wall' and meditation
As per the curriculum, students won't need to worry about marks or written examinations for the course. However, the entire focus will be directly on monitoring and observing the status of happiness in the life of child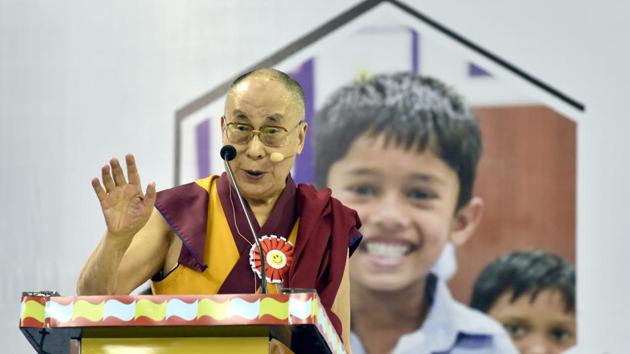 Published on Jul 03, 2018 08:54 AM IST
Starting July 12, children studying in classes 1-8 at Delhi government schools will spend 45 minutes every day in attending 'Happiness Classes', which will comprise exercises such as storytelling, meditation and question and answer sessions. For nursery and KG students, the classes will be held twice a week.
The 'Happiness Curriculum' – which will focus on activity-based learning, value education and mental exercises -- has 20 stories and 40 activities for students of classes 6-8. One such activity is titled 'Gratitude Wall' and is aimed at making students understand the importance of thanking others. Under this activity, students will be asked to write a few lines expressing gratitude to their family members who have helped them in some way on that day.
The 'Happiness Curriculum' was launched on Monday by the Dalai Lama at an event attended by chief minister Arvind Kejriwal and deputy chief minister Manish Sisodia. HT has accessed the contents of this curriculum.
At the launch, the Dalai Lama said, "Modern education focusses on material values and has nothing to offer regarding inner peace. Only India has the ability to combine modern education with ancient knowledge which is necessary for fulfillment of human emotions."
He added that India can become the modern Guru by reviving its ancient knowledge and combining it with modern education.
Kejriwal, meanwhile, said the launch of the course is the first step towards overhauling the entire curriculum. "The current education system focuses on making students mug lessons and write exams. I don't think it focuses on making good human beings," he said.
Sisodia said that each class will begin with a five minute meditation practice.
As per the curriculum, students won't need to worry about marks or written examinations for the course. However, the entire focus will be directly on monitoring and observing the status of happiness in the life of child.
The curriculum document states, "The day-to-day behaviour of the children, their communication content and process, and thinking abilities will be observed on a weekly and a monthly basis in a dairy to be maintained by the teacher. The teacher will also update the same in an online module."
The happiness curriculum is meant for Delhi government-run schools and not private ones.
However, Delhi Public School, Mathura Road, principal Manohar Lal said he will constitute a committee to look into the happiness curriculum and implement its positive points -- if required. "It is difficult to comment on the course but we will constitute a committee to study the curriculum. If there are any positive points, we will implement them in our school," he said.
But Lal added that happiness cannot be created through books. "A child will be happy if she is not under stress so we need to have neighbourhood concept, so that the child can easily reach school and get enough sleep. The system needs to change," he said.
Sadhana Bhalla, principal Mira Model School, said some private schools already conduct workshops and other activities for the mental well-being of students. "We will study the curriculum. Only then can we comment on it," Bhalla, who is also the chairperson of National Progressive Schools' Conference (NPSC) -- an umbrella body of around 160 private schools.
Close Story
Personalise your news feed. Follow trending topics