Delhi's iconic Khan Market, 2 others up for facelift next year
The New Delhi Municipal Council (NDMC) will start giving work at Yashwant Place (Chanakyapuri) and Khanna Market (Lodhi Colony) from January next year, officials said.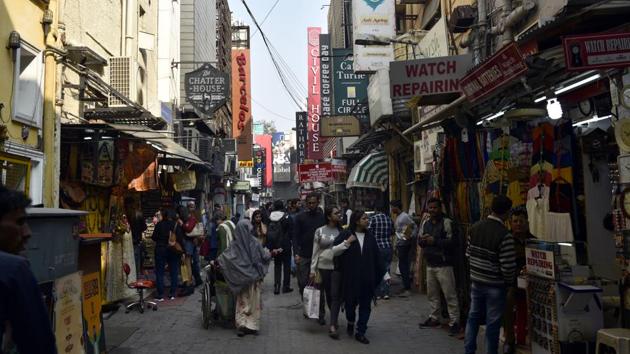 Published on Oct 22, 2018 07:14 AM IST
The plan to redevelop two prominent markets in the city – Yashwant Place and Khanna Market – is set to be rolled out years after it was first proposed, and the iconic Khan Market is next on the radar for a facelift, according to senior civic officials familiar with the development.
The New Delhi Municipal Council (NDMC) will start work at Yashwant Place (Chanakyapuri) and Khanna Market (Lodhi Colony) from January next year, officials said, adding that the Khan Market redevelopment plan will be tabled in the council's meeting in December this year.
"The renovation work at Yashwant Place and Khanna Market will cost less than Rs 4 crore each. So, the council's approval won't be needed. We will start the tendering process from mid-November and complete the project by March next year. We will take at least three years to complete the Khan Market plan once it gets approved," NDMC chairman Naresh Kumar told HT.
He added that the civic agency will strengthen utility services, make fire safety arrangements; renovate common areas, façade and toilets; streamline parking, make the markets disable-friendly; provide WiFi facilities, and install street furniture at piazzas.
Another NDMC official said that though the standardised plan for Khanna Market was approved a year ago, it did not move forward because the shop owners didn't hold up their end of the bargain.
"According to the plan, shop owners were supposed to give symmetrical look to the entrance of their shops. They were supposed to renovate common areas and corridors in front of their shops. But only few of them have done it," said a senior NDMC official on the condition of anonymity.
Ravinder Grover, president of the Khanna Market Traders' Association, said: "Ours is a private market; so, NDMC can't change the front facade. We are open to the rest of the renovation work provided our consent is taken. It is NDMC which is delaying the approval plan for each shop."
Following a poor response from shop owners, the civic agency said in January it would take up the renovation work itself.
Yashwant Palace, which houses Chanakya cinema and is famous for Russian goods and tiny restaurants selling momos, has been losing its sheen due to dilapidating infrastructure and poorly maintained common areas.
"This market was very popular with diplomats and expatriates at one time. With an aim to give new life to this market, we have decided to make it disabled-friendly, renovate the amphitheatre, install LED screens and reorganise the vendors at the momo market."
The civic agency also aims to give a modern look to the front façade of the market.
NDMC first decided to redevelop Khan market seven years ago, but the project has been hanging fire and has been revised several times since then. Now the civic body has prepared the redevelopment plan which will be implemented in a phased manner.
The plan is to take all utility services underground, make fire safety arrangements, and upgrade the façade. "The project will start with the constructing of a common utility duct in the middle lane for electricity wires, telephone and internet cables, and an underground facility for other services. It will take at least six month to implement this part of the project," said a senior NDMC official who asked not to be named.
"For fire safety, we will ask shop owners to widen the staircases up to 1.5 metres between the first and second floor. An evacuation corridor will be constructed on the terrace and shopkeepers will need to leave an 8-foot space for the movement of fire vehicles," the official added.
The market association wants the civic agency to consult them before finalising any plan. Sanjeev Mehra, president of the Khan Market Traders' Association, said: "It would be appropriate if our suggestions would be taken. We will be in a better position to highlight any lapses in the project."
The budget for the project will be decided after finalising the project. NDMC has also approached Union housing and urban development ministry for allotting a plot to construct a multi-level parking at Amrita Shergil Marg to cater to people who visit Khan Market.
Close Story