Delhiwale: Life is a plaza
Updated on Nov 27, 2018 03:38 PM IST
A plaza in central Delhi -a spot outside the Mandi House Metro station - is perfect for watching people. It is proving more popular than its planners could have dreamed.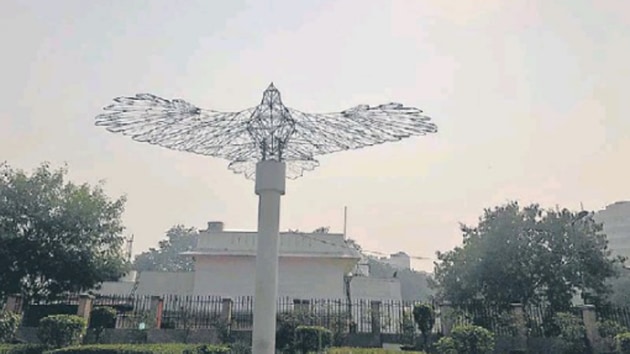 Hindustan Times, New Delhi |
Mayank Austen Soofi
Dense shrubs, a smattering of palm trees, and even an art installation—-a giant eagle made of wires. This plaza in central Delhi is proving even more popular than its planners could have dreamed.
On this particular afternoon, the sprawling paved expanse at Mandi House Metro is dotted not only with the inevitable romantic couples, but countless other citizens as well. Happily basking in a cold day's sunny warmth.
The plaza itself is huge. A good 10 minutes is needed to do a round. And when one finally settles in, the first few moments might be a tad tedious. But as the minutes drip-drop, the rush of city life slows down. You observe people who look so very relaxed—do they have an agenda?
Every so often the public buses disgorge handfuls of passengers onto the plaza. Some rush away. Others stick around, wandering idly about with their books and briefcases, or root themselves to the earth like a tree.
It is equally absorbing to gaze upon the birds flying about the wired eagle.
Just behind the plaza is the National School of Drama (NSD) producing some of our finest acting talent. You can see any number of current students rehearsing acting techniques in the school lawns. But those earnest girls and boys ought to check out the plaza and study the everyday people scattered about — facial expressions, perhaps, or the rhythms of body language. It can all come in handy on the stage or films.
Come nightfall, the plaza turns magical, pulsating still. As though walking around a vast city now abandoned.
Personalise your news feed. Follow trending topics