'Earth will shake': Delhi family deaths, earthquake spark superstition
A police official says some neighbours are trying to relate to the earthquake in New Delhi on Sunday afternoon to note's mention (recovered from the Burari house) of earth trembling.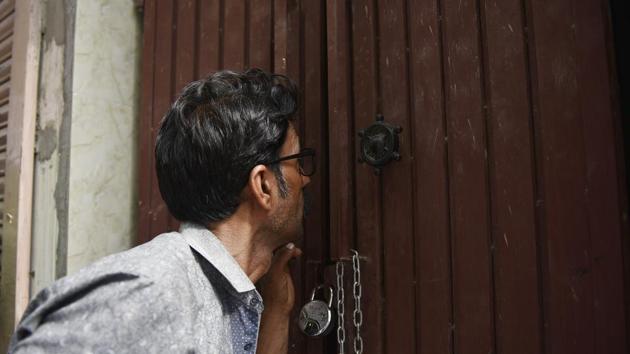 Updated on Jul 04, 2018 02:02 PM IST
Hindustan Times, New Delhi |
Shiv Sunny and Karn Pratap Singh
One of the many notes recovered from the Burari house show that the family of 11 was preparing for an experience that would be "earth shattering" the moment they hanged themselves to complete their "religious ritual".
A police officer read out the contents of the note as, "Antim samay mein aakhiri ichcha ki poorti ke waqt aasmaan hilega, dharti kaapegi. Uss waqt tum ghabrana mat. Mantro ka jaap badha dena. Main aakar tumhein utaar loonga. Auron ko bhi utaarne mein madad karoonga. (At the last moment and during the fulfilment of the last wish, the sky will move and the earth will tremble. Do not panic at that moment. Chant more vigorously. I will come and bring you drown. I will also help bring down the others)".
The police have inferred that Lalit Bhatia, who is believed to have written all these notes, was referring either to God or his father or a possible outsider who had been dictating the rituals to the family. "It also adds to the theory that the family did not plan to die and were instead hoping to be rescued ," said an investigator.
"Some neighbours are also trying to relate to the earthquake in Delhi on Sunday afternoon to the note's mention of earth trembling. There is a lot of superstitious talk in the colony ," said the officer.
As police continue to probe the possible role of an oculist or godman, they have started receiving calls from the public offering clues. "One of the calls we received on Tuesday afternoon was from south Delhi's Jamia Nagar. The caller claimed that he suspected the role of a neighbour who he believed was an occulist. The caller claimed that the Bhatia family was in touch with the occulist. We are probing that but some other similar calls have proved bogus," said another investigator.
Meanwhile, the three-storey building in Sant Nagar continues to draw a host of curious people who click photographs of the house and offered explanations for the deaths and the 11 pipes mysteriously protruding from the building.
The relatives and friends of the dead Bhatia family on Tuesday continued to insist that the 11 people were murdered and were not indulging in any ritualistic practices as claimed by the police. "Is it so easy for anyone in a group to convince 10 members to kill themselves," said Ketan Nagpal, Lalit's nephew.
Topics
Close Story