Environment clearance for Pragati Maidan redevelopment challenged at NGT
Aug 11, 2017 10:59 PM IST
Hindustan Times had on July 6 highlighted that more than 1,700 trees may be felled to make way for this integrated exhibition-cum-convention centre at Pragati Maidan
The Pragati Maidan complex's makeover into a world-class convention centre has been challenged at the National Green Tribunal, which has asked for the Union government's response on the issue.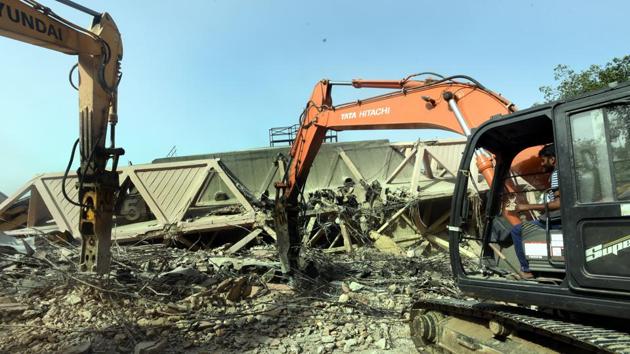 The petition filed in the green court has asked for quashing of the environmental clearance granted to the India Trade Promotion Organisation for re-development of the Pragati Maidan complex.
A bench headed by NGT chairperson Justice Swatanter Kumar issued notices to the Environment Ministry, the Delhi government, Delhi Pollution Control Committee and others on the plea claiming that the EC for the integrated exhibition–cum-convention centre was obtained by "concealing material information".
The NGT was hearing a plea on Friday filed by environment activist Verhaen Khanna and others asking for inquiry against officers of the ministry and others who "completely failed in discharging their statutory duties" by granting the EC.
"The EC was obtained by concealing material information and the appraisal of the project has been conducted in complete violation of the provisions of the Environment Impact Assessment Notification, 2006," the plea, filed through advocate Meera Gopal, alleged.
Hindustan Times had on July 6 highlighted that more than 1,700 trees may be felled to make way for this integrated exhibition-cum-convention centre at Pragati Maidan, according to a reply of an RTI query.
Green activists say that the trees to be felled are mostly more than 60 years old.
The redevelopment plan is to develop a total of 3,26,065 sq. metres of built-up area, including 1,19,445 sq metres of exhibition space, a convention centre with seating capacity of 7,000 persons with a number of different-sized meeting rooms, space for public circulation in phase-I.
Environment activists have already raised concerns and said that more than 15,000 trees have already been felled in the Capital over the last three years. While more than 6,000 were cut in 2014-15, around 4,600 and 4,700 trees were felled in 2015-16 and 2016-17.
Forest officials have already issued permission for cutting down the 1700 trees around Pragati Maidan as per Delhi Preservation of Trees Act and the required fees has also been deposited.
The Union environment ministry, too, last month gave the green approval to the proposed project with some riders after taking into account the recommendations of its expert panel.