Activist launches online petition to save 1700 Pragati Maidan trees from getting axed
Jul 22, 2017 11:48 PM IST
Hindustan Times had on July 6 highlighted that more than 1,700 trees may be felled to make way for a integrated exhibition-cum-convention centre at Pragati Maidan
A green activist has launched a petition on change.org to stop the felling of 1713 trees, which are set to make way for the construction of an integrated exhibition-cum-convention centre at Pragati Maidan.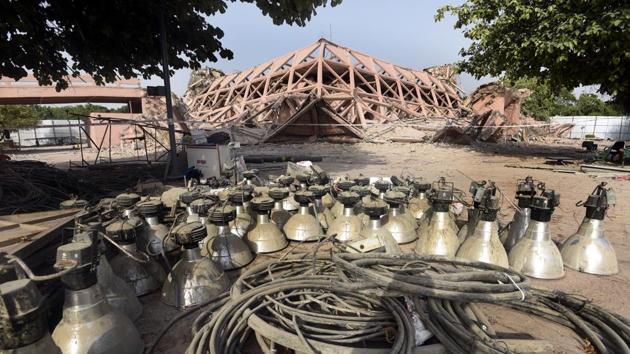 The petition had garnered 193 (out of required 200) signatures till Saturday.
Hindustan Times had on July 6 highlighted that more than 1,700 trees may be felled to make way for a integrated exhibition-cum-convention centre at Pragati Maidan, according to the reply of an RTI query. Green activists say that the trees to be felled are mostly more than 60 years old.
Tree activist Radhika Bhagat, who has started the petition on change.org, says it is a plea to the Union ministry of environment, forests and climate change, Delhi chief minister, environment and forest minister, Prime Minister Narendra Modi, the state level Environment Impact Assessment Authority and India Trade Promotion Organization (ITPO) to stall the felling of trees.
"This petition is helping bring social recognition on the Pragati Maidan tree cutting issue. A significant number of people have signed it and we want to show the authorities that this matter is crucial to the public and needs attention," Bhagat told Hindustan Times.
Environment activists have already raised concerns and said that more than 15,000 trees have already been felled in the Capital over the last three years. While more than 6,000 were cut in 2014-15, around 4,600 and 4,700 trees were felled in 2015-16 and 2016-17.
The petition on change.org says that tree felling will be done right in the heart of the city with several schools, hospitals and residential areas in the vicinity.
"These areas, along with the rest of Delhi-NCR, will suffer from the resulting pollution, that will only worsen. Over the last 3 years , Delhi has already lost 15,000 trees to development and we cannot afford to lose any more," it says.
"Do you feel embarrassed and worried to be living in the most polluted city on our planet?... Are you concerned about your and your dear ones health due to Delhi's consistently hazardous levels of air quality ?... Here is your chance to take action about this situation by protecting the lungs of Delhi, the trees," the petition reads.
Forest officials have already issued permission for cutting down the 1700 trees around Pragati Maidan as per Delhi Preservation of Trees Act and the required fees has also been deposited.
Another Delhi-based environmentalist has started a separate crowdfunding campaign to raise funds for printing costs, lawyer's and court fee to stall the "losing 1,713 healthy big trees in the heart of the city that will lead to severe health damage to lakhs of residents".
Advocate Aditya Prasad, who had filed the RTI that revealed the plan to fell these trees, has earlier said, "They have not got any Environment Impact Assessment clearance but still got permission to cut these trees from the forest department. There is a tree authority, which is supposed to clear these kind of projects, under the Delhi Preservation of Trees Act, 1994. On paper it is there but doesn't meet or act."