JNU makes attendance mandatory from Jan, students say it's against 'tradition'
Updated on Dec 27, 2017 11:45 PM IST
A circular issued by the university on Dec 22 said the attendance is mandatory for all students registered in all programmes from the Winter Semester 2018 and detailed guidelines will be circulated in due course of time.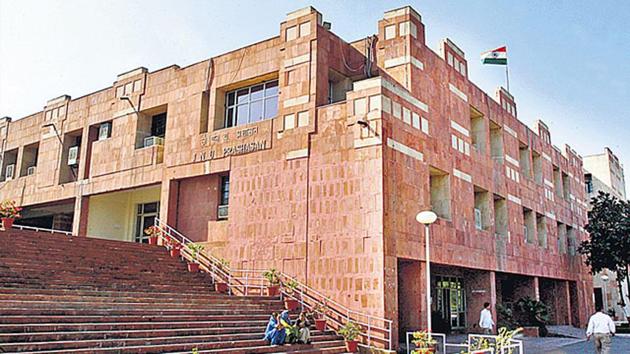 Students and a section of faculty members have alleged that the move to make attendance mandatory at the Jawaharlal Nehru University (JNU) was an attack on the university's traditions. The decision they said was 'unilateral and taken by the vice chancellor without consulting them'.
A circular issued by the university on December 22 made attendance mandatory for all students registered in all programmes from the winter semester 2018 and detailed guidelines, including the exact percentage of minimum attendance required, to be made available later.
The decision has, however, has not been received well by students across party lines, with the Left-backed JNU students' union calling the new directive 'irrational,' 'arbitrary' and 'anti student'. The RSS-backed ABVP members have called for the burning of effigies of the JNU administration and the student union over the "regressive Tughlaqi farmaan."
Though, the circular mentions that the academic council approved to make attendance compulsory in its meeting on December 1, the students' union said no decision in this regard had been reached.
"Attendance was not discussed in the academic council meeting with students or teachers. It was not even on the agenda. The vice chancellor had mentioned something about this saying they would do it but no decision had been made," said Simone Zoya Khan, vice president, Jawaharlal Nehru University Students Union (JNUSU).
Khan further said the decision to monitor attendance of students was an attack on the way JNU has traditionally functioned, and the students' body does not accept it.
Ayesha Kidwai, president of JNU Teachers Association (JNUTA) , said the move is unnecessary as JNU doesn't have a problem of absenteeism. "This has zero support among the teacher's community. We do not have an absentee problem, then why make attendance compulsory? If you miss classes, you miss out and fall behind. That should be punishment enough," she said, adding that attendance has been discussed for undergraduate language courses in the past, but never implemented.
JNU spokesperson said that all questions regarding the matter should be directed to the assistant registrar, Sajjan Singh, for evaluation. Singh, on the other hand, said he was out of town and he had nothing more to add other than what the circular said. The JNU V-C refused to comment.
Personalise your news feed. Follow trending topics