1000 farmers protest their plight at Jantar Mantar, traffic suffers
With over 1000 farmers from different parts of the country pouring in at Jantar Mantar to take part in a protest, heavy traffic jams were reported across several roads in central Delhi.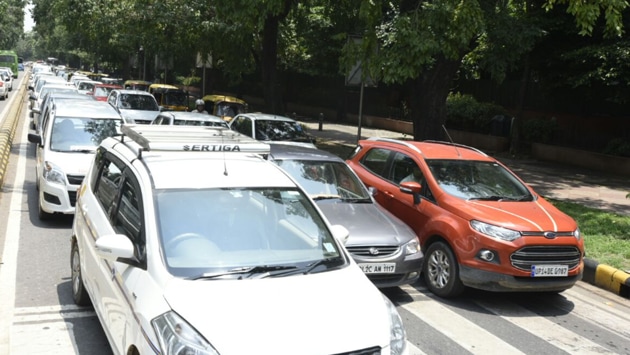 Updated on Jul 20, 2017 10:13 AM IST
New Delhi
Traffic crawled in many parts of Lutyens' Delhi on Tuesday after more than a thousand farmers from across the country gathered at Jantar Mantar to protest their 'dire state'.
On Tuesday, farmers from Gujarat, Haryana, Rajasthan, Maharashtra, Punjab and Uttar Pradesh joined force with farmers from Tamil Nadu for a 'united agitation'.
The protests led to massive jams at Connaught Place, Kasturba Gandhi Marg, Janpath and Barakhamba Road with traffic police officials blaming the continous pouring in of farmers into Jantar Mantar for the snarls.
"Our main is to stop farmer suicides. One way to stop farmers from committing suicide is to waive loans. However, this is not a long-term solution. We would like recommendations of the Swaminathan report implemented, and for agricultural produce to be fixed at 50% profitable price, which would be over and above the input costs," said VM Singh, the convener of the All India Kisan Sangarsh Coordination Committee, which has played a pivotal role in mobilising and uniting fragmented farmers agitations under one umbrella.
Though individual groups of farmers had their own specific demands, like that of a Cauvery Management Board, the major concern of farmers has been battling drought like conditions, which has ruined their crops. "We have no water in Rajasthan. What are we supposed to grow? How are we to feed our families," asked Ram Das, a farmer from the state.
Tamil Nadu farmers, who had grabbed headlines with their novel and sometimes gimmicky protest methods earlier this year, were seen with chains around their wrists, to symbolize their helplessness on Tuesday.
"Our hands have been tied by the Central government which has refused to intervene and help us get more water. Without water, how are we to work?," asked John Milkyaraj, a protesting farmer from Tamil Nadu.
A group of 40 children from Maharashtra, whose farmer parents had committed suicide, also joined the agitation on Tuesday to urge farmers to not take their own lives, no matter how difficult their circumstances might be.
"My father, who was a farmer, left me alone in the world. We are here, so that other kids don't have to face the same situation. I would like to tell farmers here not to make your kids orphans like us," said Ashok Patil, from Maharashtra, whose father had allegedly committed suicide.
According to the National Crime Records Bureaus latest available data, 12,602 farmers have committed suicide in 2015. This is almost 2% more than the number of suicides in 2014.
The farmers from Tamil Nadu are expected to stay on in Jantar Mantar, while the others are expected to carry on their Kisan Mukti Sangathan Yatra in other parts of the country.
Close Story