Delhi: Two brothers killed while cleaning sewage tank in mall
Updated on Aug 12, 2017 10:39 PM IST
Delhi Police said their father and a firefighter jumped into the sewer to rescue the brothers but fell unconscious. They have been hospitalised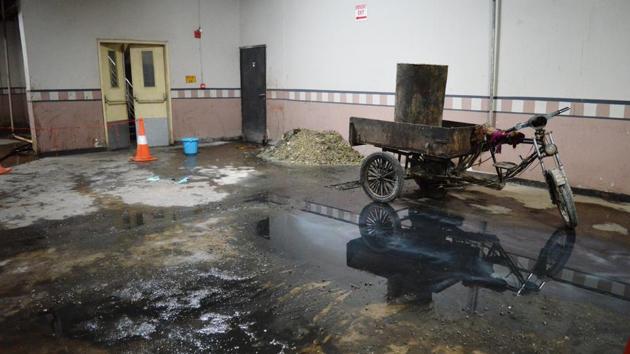 Hindustan Times, New Delhi |
Shiv Sunny
Toxic sewer gases killed two brothers cleaning a sewage tank without safety gear at a mall in east Delhi on Saturday afternoon.
The tragedy happened six days after three sanitation workers died inside a Delhi Jal Board-managed sewer line in Lajpat Nagar. Before that, four labourers were trapped to death in a sewage tank in south Delhi's Ghitorni in July.
Deputy commissioner of police Nupur Prasad said disaster struck after 24-year-old Jahangir and Izaz, who was two years younger, went inside the clogged sewage tank on the basement of Aggarwal Funcity Mall in Vishwas Nagar, Shahdara.
Their 50-year-old father, Yusuf, positioned himself at the mouth of the manhole to pull out the muck. He sounded the alarm when his sons stopped responding to him and entered the tank to rescue them.
A fire station located close by responded quickly and help arrived.
But the first firefighter, Mahipal, was left unconscious by the gases when he stepped into manhole. "Mahipal lost consciousness and crashed against the wall of the sewage tank. But the other firefighters were quick to rescue him as well as Yusuf, who too was knocked unconscious inside" the officer said.
In all the three cases, police alleged that the workers were not provided safety gears.
By the time the brothers were pulled out, Jahangir was dead. Izaz died at a hospital in Karkardooma. Their father and the fireman are recuperating.
Police registered a case of culpable homicide not amounting to murder against the mall's management.
The victims didn't have any safety gear on them when they were found. "We are investigating to fix responsibility for the deaths," the DCP said.
Sunil Jain of Unity Group, a real estate company that owns the mall, said cleaning operations were outsourced to a sanitation firm.
According to Yusuf's neighbour, Abdul Hasan, the poor family collects household garbage to make ends meet and sometimes clean sewer lines and tanks for a fee.
The deaths are a grim reminder of unsafe working conditions for people keeping India's sewer lines and tanks clean, often with their bare hands.
Often, the worker's only tool to gauge risk levels is a matchstick lit at the mouth of the sewer to find out the presence of poisonous gases and the absence of oxygen. They go in if the stick burns itself out.
A law makes it a criminal offence to make people work in unsanitary and unsafe conditions.
Employers must provide gas masks, safety harness belts, helmets and mechanised equipment at dangerous sites such as clogged underground sewers. They could be imprisoned and fined if they don't.
But there's no report of criminal cases registered against offenders.
There are no national data on such deaths, though social workers estimate that around 100 sewer workers die every year across India.
Personalise your news feed. Follow trending topics