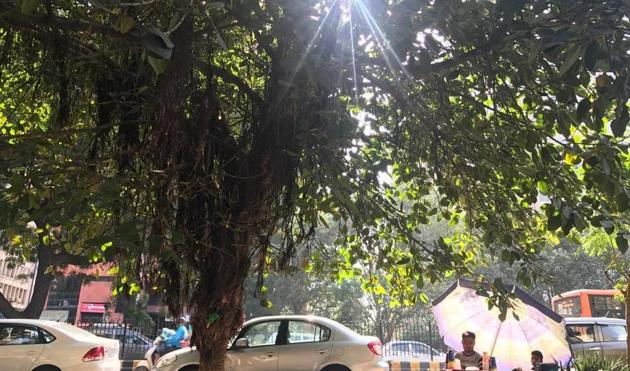 NDMC to count its vintage trees to keep track of green cover in central Delhi
The proposed tree census will capture scientific and popular names, girth at breast height, height, crown area and GPS location of trees on main roads in areas under New Delhi Municipal Council
UPDATED ON JAN 16, 2018 10:42 PM IST
Main roads of New Delhi — such as Janpath, Akbar Road and KG Marg — are lined with old trees like neem, jamun, arjun, imli, pipal and amaltas, among others. The New Delhi Municipal Council, now plans to conduct a census of these majestic trees on main roads.
"There is a necessity of having comprehensive information on the number, kind and health of trees on all avenue roads. Therefore, I am proposing trees census on all Avenue Roads in 2018-19 and digitise this data for better tree management," NDMC chairman Naresh Kumar said, while reading out the council's budget on Monday.
The civic body had last conducted a census of trees in 2005. While the database of trees in parks is regularly maintained, those on roads largely remain outside the monitoring net. According to Kumar, the census of trees on main roads will form the baseline database for New Delhi's green cover which will help in scientific management of trees, including need to replace the old and diseased ones.
"The proposed tree census will capture scientific and popular names, girth at breast height, height, crown area, GPS location, and so on of such trees. A dedicated team will be constituted in NDMC to complete the task in 2018-19," he said.
The NDMC area, a VIP zone in the city's heart, is home to a mere 1.5% of the Capital's 16.78 million people and covers just 3% of the city. But it has nearly 50% green cover of Delhi.
In recent years, residents of various localities have started counting trees of their respective neighbourhoods. The first tree census of Delhi conducted privately by residents of Sarvodaya Enclave in 2011-12 marked the total number of trees, their species and their individual health — whether they had any disease, were infested by pests or were encroached upon. This was followed by other localities like Gulmohar Park, Jor Bagh and Vasant Vihar.
The Delhi government in October 2015 had announced the decision to conduct the Capital's first-ever tree census by a "third party", essentially an NGO, to arrive at a figure of the number of trees in the city. This has yet to become a reality.
The New Delhi Municipal Council also has plans to conduct an audit of it's yearly plantation drive. "In 2016-17, green survey audit was conducted through Indian Agriculture Research Institute, Delhi, which certified 72% survival rate of timber plants planted by the NDMC. Similar audit for the plantation drive conducted in 2017-18 will be completed by March, 2018 by the same institute," Kumar said.
Trees on Main Roads
Arjun: Janpath, Park Street, Mother Teresa (Mixed), BKS
Neem: Aurangzeb Road, Shahjahan Road, Prithviraj Road, Aurobindo Marg, Tees January Marg, Safdarjung Road, Kamal Attaturk Marg, K.G. Marg, Rafi Marg, Talkatora Road, Lodhi Road, Sansad Marg, Pandara Road, Jai Singh, Jantar Mantar, Gurudwara Rakab Ganj Road
Imli: Tilak Marg, Akbar Road, Teen Murti Marg
Jamun: Ashoka Road, Rajpath, Sunehri Bagh, Tughlaq Road, Motilal Nehru Marg, Firoz Shah Road, Raisina Road, Rajaji Marg, Tyagraj Marg, Kushak Road, Talkatora Road, Tolstoy Road, Mahadeva Road
Kigelia: Purana Quila Road, Babar Road, Bangla Sahib Road
Pilkhan: Dr Zakir Hussain Marg, Bhagwan Das Road, Balwant Rai Mehta Lane, Nyaya Marg, Niti Marg, Dalhousie Road, Satya Marg, Church Road
Peepul: Mother Teresa Road, Panchsheel Marg, Sardar Patel Road, Mandir Marg, K.G. Marg, Africa Avenue
Baheda: Dr Rajendra Prasad Road
Khirni: Maulana Azad Road
Semal: Niti Marg, Nyaya Marg
Ailanthus excelsa: Copernicus Marg
Mahua: Rajesh Pilot Marg
Pterygota alata (Budha's Coconut): Bishambhar Das Marg
Gmelina arborea: B- Avenue, Sarojini Nagar
Alstonia scholaris: Vinay Marg, Kautilya Marg, Kitchnar Road, Safdar Hashmi Marg, Tansen Road, RK Ashram Marg
Ficus Sheila: Krishna Menon Marg, Malcha Marg Market
Amaltas: Chandragupta Marg, Amrita Shergil Marg, Humayun Road
Close