Ramjas clash: DU turns fortress day after violence, over 500 cops guard campus
Violence erupted when members of the ABVP allegedly swooped on a march by members of the Left-wing student outfits and other Ramjas College students who were protesting the disruption of the college's literary fest by members of the RSS-affiliated students' organisation.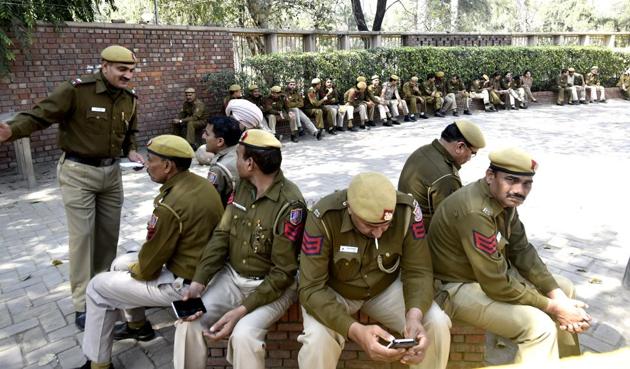 Updated on Feb 23, 2017 11:15 PM IST
In a sharp contrast to the events on Wednesday that saw students and police indulge in violent clashes near Ramjas College, protests by students on Thursday remained largely peaceful, thanks to adequate deployment of police force, better planning and some luck.
"We were lucky that ABVP chose Delhi University as the venue to protest and the rival group chose Delhi Police headquarters, so they did not come face to face," said a senior police officer.
But the police did not take a chance even at the Delhi University's Arts Faculty, where students from ABVP and NSUI had gathered in response to the violence on Wednesday. "We ensured that the NSUI student activists were restricted to a barricaded and heavily guarded area outside the faculty," said Jatin Narwal, DCP (North).
Read: Ramjas clash: Crime branch to probe violence on DU campus, 3 cops suspended
Additional force had been rushed outside the university premises on Wednesday night and they will not be removed unless the situation normalizes, police said.
The ABVP students were allowed to protest at the Vivekananda statue, behind the locked main gates of the faculty. When they marched away from the statue, raising slogans, they were stopped much ahead of where the NSUI students were staging a "peace march".
"We deployed more than 500 police personnel in and around the North Campus. The police deployed there were warned against any high-handed behaviour. Suspending three policemen in connection with the violence must have served as a lesson," said Dependra Pathak, special CP and Delhi Police spokesperson.
Outside Delhi Police Headquarters, more than 200 police personnel were deployed to prevent protesting students from turning unruly or disrupting traffic.
Read: Teachers, students, journalists beaten up in clash with ABVP
The police, however, remained on the back foot all through the protest, not making any attempts to stop students from raising slogans or making videos. Pathak said the police had been specially instructed not to use physical force against the students unless absolutely necessary and to allow people to shoot videos.
Close Story