State of Delhi education: 53,000 students play truant in municipal schools for up to two years
As per the MCD data in 2016-17, 53,100 students enrolled with the primary schools in three municipal corporations have not attended the academic sessions for up to two years.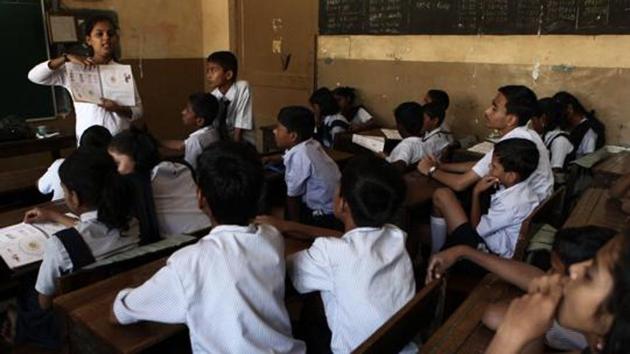 Updated on Aug 07, 2017 10:59 PM IST
Nine-year- old Kashish, a resident of I Block Jahagirpuri, doesn't know which standard she actually studies in. It's not that she is too young to remember the details. The fact is that she has not been to school for over six months.
A student of municipal corporation's Pratibha Vidyalaya in Jahangirpuri, Kashish was promoted to Class 4 in April by the school authority even though she didn't appear for Class 3 exams. According to teachers, as per the Right to Education Act 2009 no child should be held back, or required to pass a board exam until Class 8.
"Her parents work in factories and leave her home to look after the younger brother. She is an intelligent child and we don't want her to give up studies but we can't do anything. I contacted her parents but now they have stopped responding to my calls. I had also sent her classmates to find out the reasons," said her class teacher Sneh Lata Verma.
The child's father, Radhey Shyam, said he didn't think it was important to send Kashish to school.
"We have been going to our village in Bareilly frequently so she couldn't go to school. Also, she is not learning anything special here so there is no point sending her. We will manage her admission in a private school," he said.
On the other hand, Class 4 student Sneha Khatun at MCD Primary School, Munirak Village, has been missing school because the school authority has refused to take her in Class 5 due to long absenteeism.
"I moved to Delhi from Kolkata in search of work three years back and got Sneha enrolled in Class 2. But couldn't give much attention to her studies since I was a single parent and had another child to take care of. Last year, when my father was ill, I had to go back to Kolkata for long time and when I came back the school refused to take her back," Sneha's mother, Sultana Bibi, said from Kolkata.
However, the zonal education officer refuted the charges and promised to look into the matter. "We don't delete a student's name unless a formal application comes from the parents," said the official.
The instances highlight the fact that despite the claims of municipal corporations to introduce 'revolutionary' measures to uplift education and increase students' strength in schools, absenteeism and dropout rates remain high.
As per the MCD data in 2016-17, 53,100 students enrolled with the primary schools in three municipal corporations have not attended the academic sessions for up to two years.
The East Delhi Municipal Corporation (EDMC) alone has identified 26,000 students while 17,100 students belong to the North Delhi Municipal Corporation. About 10,000 students are enrolled with primary schools in the South Corporation.
According to a senior EDMC official, "The attendance in MCD schools is never over 65%. Out of 2.04 lakh students associated with EDMC schools in 2016-17, only 1.78 lakh were regular. This means 26,000 remained absent for six months to two years."
Till May 10, 2017, the strength had further come down to 1.56 lakh.
Declining enrolment rate is another issue bothering school authorities. During 2016-17, the enrolment rate was -6% for the three corporations. Officials believe the percentage will come down further as more admissions take place till the month of August.
As per reports of Praja Foundation, the enrolment rate was -2 % in 2015-16 and -4% in 2014-15.
"We are trying our level best to bridge the gap. But at the same time we can't stop children from going to Delhi Government's Sarvodaya Schools, which have introduced nursery classes as well. Similarly, the mushrooming English medium schools also attract parents," said the official from South Corporation.
But NGOs working in the field of education deny the claims. "The fact is that teachers don't put efforts to find out the reasons when children do not come to schools. In extreme circumstances, they just send other students to find out the reason. Ideally, they should go in personally and if that fails to get results, the matter should be raised in the school monitoring committees," said Saurabh Sharma from Josh NGO.
According to Sharma, the gaps were highlighted when the exercise to attach students' Aadhar cards with their bank accounts started in 2016. The civic agencies have so far attached the accounts of 75% students with Aadhar numbers.
As per norms, for every 35 children there should be one teacher. "But there are instances in which 20 students are present in one class at MCD schools. And teachers fearful of getting transferred do not report the absent students in their class," said Divya Prabakar, former fellow at Teach for India.
According to experts, the issues won't be sorted out unless quality of education and facilities would improve in these schools.
Close Story
Personalise your news feed. Follow trending topics