TN farmers protesting at Jantar Mantar 'eat' own excreta, say human flesh next
Updated on Sep 11, 2017 11:35 AM IST
Tamil Nadu farmers protesting in Delhi are demanding loan waivers, revised drought packages, a Cauvery Management Committee, and fair prices for their products, among other things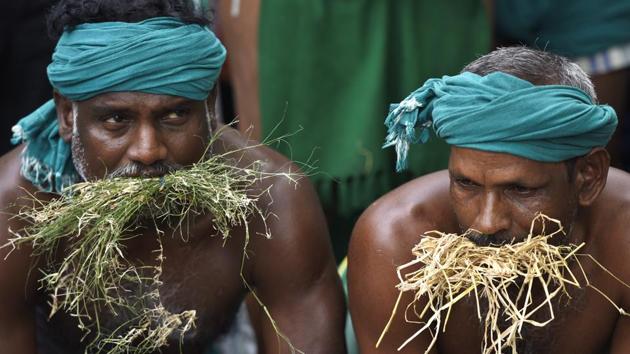 A group of farmers from Tamil Nadu, who have been protesting at Jantar Mantar for almost two months, have made a desperate attempt to draw attention of the authorities by allegedly eating their own excreta in protest.
Ten of their men, including their leader P Ayyakannu, took the drastic step on Sunday. "I feel like throwing up when I even think about it," said Palanichamy, who was one of the 10 who allegedly ate their own excreta.
"We collected the excreta in the morning (in plastic bags) and then ate it... By not giving us revised drought packages, compensation for crops ruined by the bad weather conditions and refusing loan waivers, the central government has forced us into a position of having to eat our own waste," said Ayyakannu, president of the national south Indian rivers linking farmers' association.
The farmers said they would eat human flesh on Monday to add steam to their protest.
"We had been here for 41 days earlier, and now by Tuesday it will be the 59th day since we came back. So altogether, Tuesday will mark the hundredth day of our protest, and we plan to march in the nude to the PM's office then," said Ayyakannu.
The group of farmers from Tamil Nadu had grabbed headlines earlier this year, for their unique methods of protests, including biting mice and snake bits, holding mock funerals and threatening to drink their own urine.

The farmers are demanding loan waivers, revised drought packages, a Cauvery Management Committee, and fair prices for their products, among other things.
The farmers had earlier this year been at Jantar Mantar for over 40 days and returned in July with 17 skulls and 17 pairs of femur bones allegedly of farmers who had committed suicide in the face of drought and debt.
The farmers resumed their protest after the Supreme Court stayed the Madras High Court order directing the state government to waive all agricultural loans, irrespective of how much land the farmer owned. The state government had moved the apex court, asking it to restrict the loan waivers to small or marginal farmers who owned less than five acres of land.
The Tamil Nadu government declared a drought in the state after the India Meteorological Department (IMD) stated that the northeast monsoon in 2016 was the worst in 140 years. Farmers allege that their crops were ruined in the drought and the subsequent Cyclone Vardah, and are still reeling under its adverse effects.
Personalise your news feed. Follow trending topics