To keep women safe, Delhi makes child-lock sticker mandatory on cabs
The idea was mooted by Delhi Commission for Women after noticing that the presence of a child lock in a taxi can make women passengers unsafe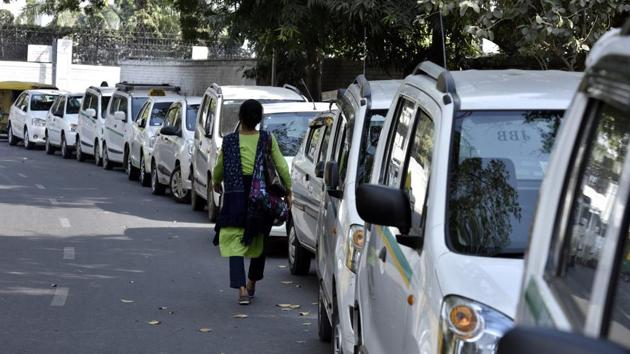 Updated on Sep 05, 2017 12:49 PM IST
Passing a resolution in its board meeting held on Monday, the Delhi's State Transport Authority (STA) has made it mandatory for all drivers in the city to paste a minimum of four stickers on every cab asking passengers to disable its child lock before starting the journey.
Cabs in Delhi will get permits only if drivers put the stickers which inform passengers about the car's child-lock system.
"To ensure safety of passengers, especially women, the STA Board has approved the transport department's child-lock proposal for cabs," STA member and Kasturba Nagar MLA Madan Lal told Hindustan Times.
"Cab owners will have to put stickers informing about the lock system near the door handles on all four sides of the car. Also, pasting two more on the front and rear will also be allowed," he said.
While a notification on this will be issued by the Delhi government in a day, the Motor Licensing Offices will be given directions not to issue taxi permits until a vehicle has the stickers on it.
Besides, to implement the law on the two lakh taxis running on city roads, the traffic police and the enforcement team of the transport department have been asked to prosecute violators.
The move comes after the Delhi Commission for Women (DCW) took suo motu cognizance of the issue and maintained that presence of child lock increases possibilities of crime against women, as passengers cannot open cab doors from inside if the child lock feature is enabled.
Speaking to HT, DCW chief Swati Jaihind, who had mooted this idea, said, "It was much needed as a woman should feel safe while travelling in a cab. The stickers would make passengers aware that something called child lock even exists and that they should disable it at the start of the journey," she said.
Jaihind added that the Delhi government has also assured of taking up the issue of removing child locks completely from cabs with the ministry of road transport and highways (MORTH).
"Yes, we are going to take this issue with MORTH. If the cab driver activates the child lock, a passenger is not able to open the door from inside if they wish to. It increases the possibility of a crime," a transport official said.
The official added that the proposal makes sense also because the service is mostly used by adults.
Close Story