Traffic stands still in Delhi as one lakh protesters march through its streets
Updated on Sep 06, 2018 03:30 AM IST
Police were reportedly caught unprepared despite being informed about the protest march a week in advance.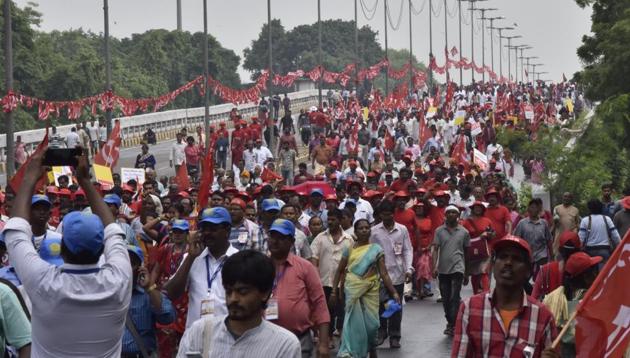 Central Delhi was gridlocked throughout Wednesday as over one lakh farmers, workers and labourers marched through arterial roads from Ramlila Maidan to Jantar Mantar, demanding loan waiver, better wages and improved return for their crops.
Sources from the traffic department said that the organisers had told the police a week in advance that there could be 3 lakh people coming for the protest march. However, despite prior information the police looked unprepared to handle such a large crowd.
Barakhamba Road, Tolstoy Marg, Copernicus Marg, Kasturba Gandhi Marg, Baba Kharag Singh Marg, Delhi Gate, Paharganj Chowk, Janpath and the Ranjit Singh flyover intersection were among the worst hit stretches. These roads were closed for traffic in phases from 9am till 3pm.
The Outer Circle of Connaught Place was also packed with vehicles as traffic jams were made worse in the evening by office rush joining already chaotic roads.
The buses ferrying the protesters were parked along the roadside at Ramlila Maidan and ITO, creating traffic bottlenecks. The protesters walked from there to Ramlila Maidan to congregate before the march, causing more traffic jams.
As traffic stood still, many commuters complained of poor traffic management by the Delhi Traffic Police, which they said, aggravated the situation. No prior traffic advisories were issued to warn commuters of the mass protest. As many drivers struggled to find alternative routes to ditch traffic spillovers were caused in adjacent routes as well.
The hold-ups started from 9 am, when the protesters started marching from Ramlila Maidan, and continued till around 6pm — much after rally got over.
"Traffic advisories were issued and regular updates were also put up on our Twitter and Facebook pages to warn commuters of the rally. However, in such as large scale protest it is difficult to give a minute-by-minute account of the movement," said joint commissioner of police (traffic) Alok Kumar.
He said that traffic personnel were deployed at all affected routes who were managing the movement of vehicles while the protesters were walking on the roads.
But Sandeep Sen, who was driving to his office at Tolstoy Marg, said that it was not until 10 am that he saw the Twitter alert posted by Traffic Police. "By then, it was too late. I was already stuck in a jam. This advisory should have come a day in advance so that we could have planned accordingly. It is not that the cops did not know about the rally yesterday," he said.
Santosh Sinha, a commuter travelling towards ITO from Delhi Cantonment, said that he was stuck in traffic at Sardar Patel Marg from where it took him an hour-and-a-half to reach ITO. The Ram Manohar Lohia Hospital roundabout was packed with vehicles crawling and honking with no traffic official in the vicinity, he said.
"While traffic was already moving at a snail's pace, at some distance when cops were finally spotted, they stopped traffic coming from RML hospital for over 15mins. This worsened the situation further," he said.
Personalise your news feed. Follow trending topics