Tricolour sells like hot cakes ahead of Independence Day in Delhi
From about a week before Independence Day, traffic signals across the city started bustling with hawkers who ditched their regular merchandise for the tricolour.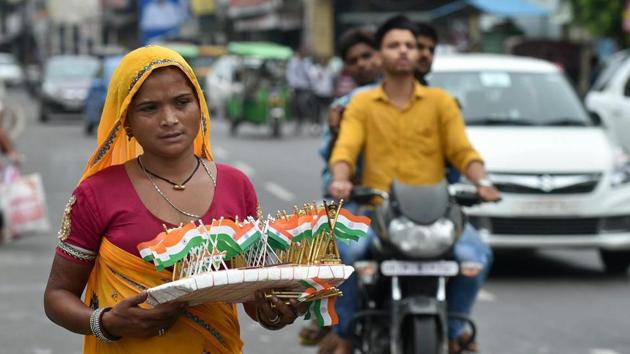 Updated on Aug 15, 2018 03:17 AM IST
It is around 1.30pm on Tuesday and the ITO intersection in east Delhi is as usual busy with traffic. The lights turn and 12-year-old Sultan notices the cars stopped at the traffic signal. He rushes towards the stopped cars with around 10 national flags held close to his chest.
Sultan then goes on to use all the tricks of persuasion in his bag — clinging on to windows, falling at the customer's feet and even forcing the flags at them. He has 90 seconds as per the signal timer and just a day left for Independence Day after which there will be no buyers for the flags. He sells one flag for Rs 100.
"This is a seasonal product. After August 15, these flags will not have any takers. In fact, by tomorrow (Wednesday) evening people will start losing interest," said Sultan, while wiping his forehead with the sleeve of his tattered shirt.
From around a week before Independence Day, traffic signals across the city start bustling with hawkers who ditch their regular merchandise for selling tri-colours. The vendors said that selling flags is not an easy feat.
The vendors have to pre-book these flags from suppliers at Sadar Bazar or Gandhi Nagar and usually have less than a week to sell them. If the flags are not sold, then they have to store it for next year.
Masoom Traders, a supplier of Indian flags in Sadar Bazar, ordered 132 flags this year. Srikant Tiwari, the owner of the shop, said that there was "limited demand".
"It is not like ordering a few extra diyas or masks. No other time of the year would you see people wanting to buy their national flag. Unless there is an unpredicted political rally, these remain unsold," Tiwari said.
He explains that the surge in demand for cloth flags—mostly cotton-satin and khadi—started after regular citizens were allowed to hoist and wave large-sized flags after industrialist and former MP Naveen Jindal filed a court case for the right of people to hoist their national flags. Before this, cloth flags were only a privilege of government offices, while the others were allowed to wave plastic flags.
"The market changed. People preferred the cloth flags over the plastic ones," Tiwari said.
Many vendors said that holding the flag up throughout was more of a necessity than following a protocol or showing patriotism. As per the Flag Code of India, the national flag should not intentionally touch the ground or floor but rolls of the tricolour was seen spread over plastic sheets on the footpaths along Vikas Marg.
Forty three-year-old Babli, who was arranging her flags in order near the Janpath intersection said that it is the 'middle and the lower middle class' who buy the flags. The "sahabs" in big cars rarely roll down their windows to buy one.
"If you are selling flowers or mobile chargers we target the bigger cars. During Independence and Republic days, however, the strategy is different," she said with a smirking without looking up from the task at hand
Close Story