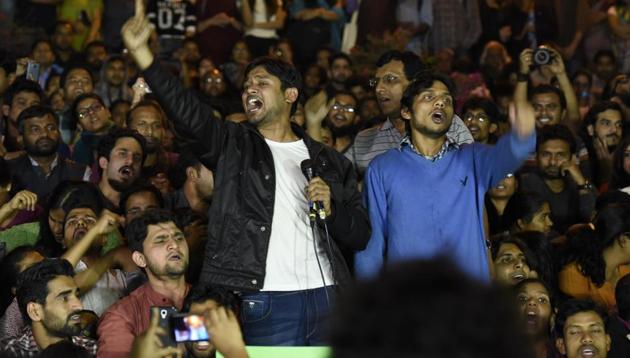 ABVP now goes after Delhi Police for not doing enough in Kanhaiya sedition case
JNU students Kanhaiya Kumar and Umar Khalid were book last year under the sedition law for allegedly raising anti-national slogans in the university campus.
UPDATED ON MAR 02, 2017 10:27 AM IST
The ABVP has called for a protest outside police headquarters on Wednesday afternoon against no progress in sedition case against JNU students Kanhaiya Kumar, Umar Khalid and others. HT reported on February 9 that a year after they were arrested for sedition, police are yet to file a chargesheet. Kanhaiya Kumar and other students are currently out on bail. Police usually file a chargesheet within three months after which the case goes to trial.
Sources said police are finding it difficult to gather evidence against Kumar, who has been the face of the case since February last year. A week after police filed the case, HT had reported earlier that Kumar's name was not in the FIR even after TV reports. The complainant in the case, who is a police personnel has named Khalid and others of leading the mob, that allegedly raised anti-national slogans. In the FIR, registered on the basis of a Zee News channel footage, the complainant has mentioned that the footage shows Khalid leading the mob, which shouted anti-national slogans.
The Delhi Police had come under heavy criticism for booking students under the archaic law relating to sedition. The then police commissioner BS Bassi had also said police would not oppose Kumar's bail but retracted later. Bassi's successor Alok Verma, who is now CBI director, did not reportedly pursue the case in his 11 month tenure as the Delhi police chief.
"This case is like an albatross around our neck. Kanhaiya Kumar was the face of sedition last year but the videos mentioned in the FIR and analysed do not show him raising slogan. Though the case against other accused seen in video looks good but Kumar coming out clean will be a huge embarrassment," an officer said wishing not to be named.
Police submit report to MHA about last week's clash
Meanwhile, police have submitted a report about last week's clash outside the Ramjas college. The Delhi police have been criticised for their handling of the protest, which resulted in violent clashes at north campus. Three police officers who were accused of attacking journalists and female students have been suspended. While the FIR related to the clash has been transferred, a separate inquiry has been ordered against the police for attacking journalists.
Additional deputy commissioner Esha Pandey and her team are scanning mobile videos of the police personnel seen thrashing students.
Close