BJP asks BSY to go, party panel to meet today
Updated on Jul 28, 2011 09:07 AM IST
The BJP Parliamentary Board will meet today to decide the fate of Karnataka chief minister BS Yeddyurappa amidst signs that his continuance in office could be untenable in wake of the lokayukta indictment in the mining scam. What Hegde's report says | BSY in Delhi, rules out resignation | Scam links & career graph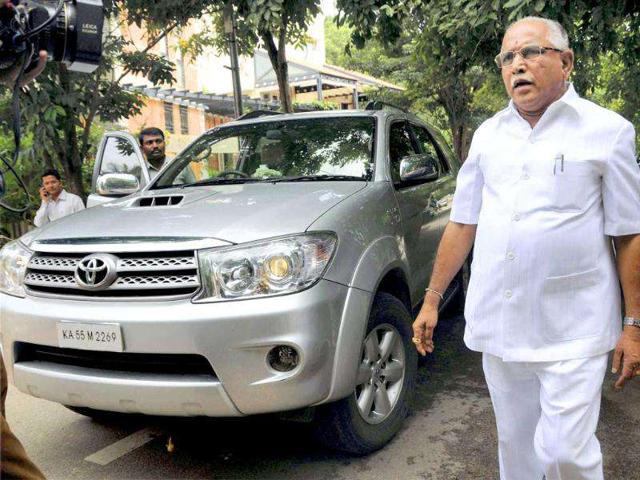 The BJP Parliamentary Board will meet on Thursday to decide the fate of Karnataka chief minister BS Yeddyurappa amidst signs that his continuance in office could be untenable in wake of the lokayukta indictment in the mining scam.
The top brass of the BJP will meet on Thursday morning at the residence of BJP president Nitin Gadkari, who met Yeddyurappa late on Wednesday night.
Yeddyurappa, who continued to be defiant and ruled out his resignation, left for Bangalore early on Thursday morning. He has convened a meeting of party MLAs on Thursday morning in the Karnataka capital.
Sources said usually a meeting of the Parliamentary Board, the party's highest decision making body, is called only when some big decision has to be taken, and this is also a pointer that Yeddyurappa's time is up.
Upon his arrival on Wednesday evening with his ministers and close confidants, Yeddyurappa appeared defiant and said he has not been asked to resign.
In the meeting with the party president and senior central party leaders Rajnath Singh, M Venkaiah Naidu and Dharmendra Pradhan, the political fallout of the lokayukta report was discussed with Yeddyurappa.
The chief minister tried to convince the central leadership that the charges made in the report were not new and a court case was already pending in the matter.
However, the central leadership conveyed to him that his continuance would weaken BJP's fight against corruption, especially when the monsoon session of Parliament begins next week.