BMW accident: Uber driver's wife determined to stay in Delhi, fight for justice
Updated on Jan 25, 2017 11:49 PM IST
Arjena Bibi, who has gone to her village in West Bengal for Nazrul Islam's last rites says that she will return to the Capital to fight the case in court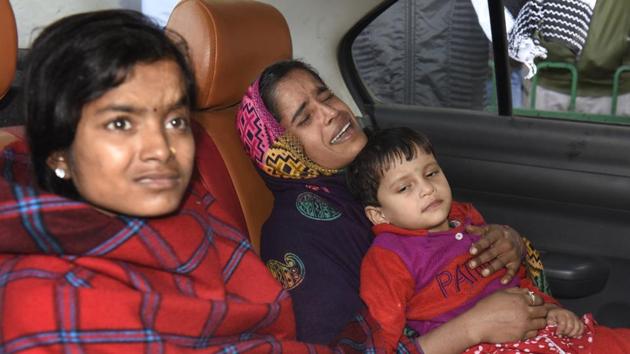 Hindustan Times |
, New Delhi
Shiv Sunny
Even before Arjena Bibi reached her village in West Bengal with the body of her husband Nazrul Islam, who was killed in the recent BMW accident, she had made up her mind to return to Delhi. "I have no means to earn a livelihood in Delhi but I will camp there to ensure my husband's killer does not get away," Bibi told HT on Wednesday.
Nazrul Islam, an Uber driver, was killed when an allegedly speeding BMW rammed into his WagonR near IIT in south Delhi late on Sunday night. Islam was the primary breadwinner for the family that includes Bibi, their two children and Islam's grandmother. With Bibi earning barely ₹2,000 from her work as a house help in Gurgaon, the family is left with hardly any source of income.
"My earnings won't even pay for my rent in Gurgaon, but that does not mean I won't return to fight for my husband. The man who killed my husband is rich. If I am not physically present there, he will get away easily," said Biwi, a little after reaching her village at around 4am.
Shoaib Kohli, the alleged BMW driver, is an analyst with a multinational food company in Gurgaon. The BMW is one among many expensive cars owned by his family that lives in Panchsheel Park.
Kohli was allegedly driving at a speed of 100-125 km/hr at the time of the accident. Fearing a reprisal by the public, he fled the spot in an auto. He was arrested by the police from his home the next day and is currently out on bail.
"I will leave my two children behind with my parents. I will stay with my relatives in Delhi so that travelling in connection with the case is not difficult," Bibi said, adding that she will look for another job as a house help in Delhi to sustain herself.
Her relatives have promised to stand by her. "We will do the running around for her in Delhi. We also have the support of many other Ola and Uber drivers. We may be financially weak but we will fight the case," said Majid, Islam's relative.
Close Story
Personalise your news feed. Follow trending topics