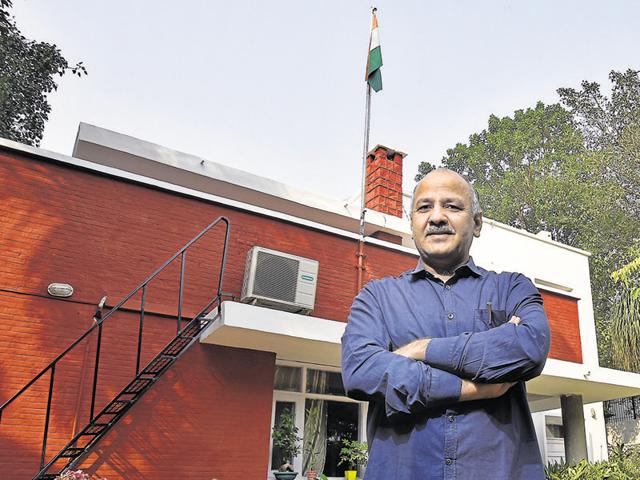 Faced resistance from my own department over Chunauti scheme: Sisodia
Hindustan Times | By Sweta Goswami and Faizan Haider
, New Delhi
UPDATED ON NOV 14, 2016 02:16 PM IST
It's Children's Day and the Delhi government's project of enabling every child to read at the basic level comes to an end. But, work for the Capital's education minister, Manish Sisodia, has just begun. In conversation with HT, Sisodia talks about their flagship Chunauti scheme, the challenges they continue to face and the way forward.
By November 14, all students in Delhi were supposed to know how to read under Chunauti 2018. What has been the result of this two-month long programme?
From the reports given to me, I can say we have been able to turn more than 50% non readers into readers. They might not be too good at it, but have surely picked up the basics. However, an assessment will be conducted by school teachers only on November 15 and 16. By Thursday, I expect the accumulated data to reach me. After that, a third-party assessment of the entire system will be done by the State Council of Educational Research and Training (SCERT). Results from the schools and SCERT will be collated and then a final announcement will be made on November 30.
Read: How a non-reader at a Delhi govt school turned into a reader
What after November 30?
Tailor made solutions won't work. Based on the outcome, we will see how to move further. Once a school achieves 100% readability, we will reshuffle the students in Class 7. The division of readers and non readers would go. I am sure there will also be aspects where we will have to improve upon.
The second component of Chunauti, where Class 9 students are being helped, will go on. In that we, have identified students who can't read or have failed twice or more. Groups have been made for their special training.
But, we won't let them sit for the regular exams in schools. They will be given study material and uniforms and will have to attend school from Monday to Friday. But they will be made to appear in their final exams in our Open School. This is because the level of curriculum toughness in Open School is lower than the regular schools. So, they will be able to pass, which we hope will boost their confidence.
I plan to go big on the Reading Melas. Parents and youngsters are coming forward to teach children how to read.
Read: New readers at Delhi govt schools make slow, steady progress
What challenges were you confronted with?
I faced challenges from officials of my own department. There has been a lot of mid-level resistance. Our system is slave of curriculum. When we were discussing how teachers would themselves have to take the responsibility, officials were worried about how they would complete their syllabus. We had to remind them repeatedly, focus on the basics first.
We follow a system where teachers are given a timeline for chapters to be completed and also the way it is to be taught. I believe, teachers must be given some freedom so that they themselves take interest and also teach students in fun ways. Until that is achieved, I feel the no-detention policy for students up to Class 8 does not fit. We are not ready for it yet.
Improving the quality of students is being taken care of, but what is being done for teachers?
Apart from their subjects, the focus is on motivation. So, we have created a group of 200 Mentor Teachers for all our 1,011 schools. We picked up one best teacher from groups of five schools each. These mentors will be guiding teachers. The most important thing is that teachers need to improve their communication skill with students.
Government data suggests schools are largely overcrowded. What is being done about it?
We are creating more classrooms. 6,000 have already been built, whereas, 1,500 will be ready by the end of this month. 1,500 more will be ready in January.
Close