MCD elections: Swaraj India tells candidates to use same picture, wear party colour
Updated on Apr 02, 2017 11:54 PM IST
The party has asked all its candidates to use the same picture in its posters, hoardings, placards and other poll campaign materials that they will give to election commission to be used in the Electronic Voting Machines (EVM)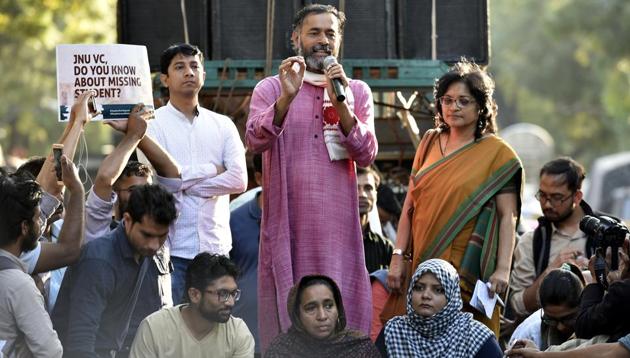 After Swaraj India's plea for a political symbol was dismissed by Delhi High Court, the party has devised an innovative strategy to ensure that there is a uniformity in their political campaign.
The party has asked all its candidates to use the same picture in its posters, hoardings, placards and other poll campaign materials that they will give to election commission to be used in the Electronic Voting Machines (EVM).
A coloured photographs of candidates will be affixed besides EVMs as Delhi goes to vote for the municipal elections on April 23.
Swaraj India, a political party formed by former AAP leaders Yogendra Yadav and Prashant Bhushan, is contesting Delhi municipal corporation elections on all 272 seats.
Member of Swaraj India's National Presidium, Anupam said, "Besides poll publicity materials, we have asked all the members to show the same picture to the voters during their campaigning in the ward."
The party has also asked that each candidates should prominently use the party's logo which is a yellow flag with a red brush strokes in their posters. Also the candidates have been advised to wear yellow clothes which is party's theme colour as much as possible.
They have also been communicated that they should use fixed size banners and posters with yellow background so that there is a uniformity in the campaign.
Swaraj India's spokesperson Ashutosh Mishra said, "It is a disappointment that party might not get common election symbol but this will not harm our chances as civic body elections are fought on hyper local issues and if most people know the candidate personally."
"So, if our candidates are able to use their face and party's colour as their brand, the denial of symbol will not be a major constraint, he said.
Meanwhile, challenging a single judge's order dismissing its plea for allotting a common symbol to its candidates in the corporation polls, the party has appealed it in front of a double bench in Delhi High Court.
After the Delhi High Court had struck down its demand for identical symbols for all its candidates contesting the corporation polls, party leader Yogendra Yadav had accused AAP of conspiracy by deliberately sitting on a proposal that of election commission that would have cleared the way for Swaraj India for getting a common symbol.
He had said that in March 2015, the state election commission had written to the Delhi government to modify rules to allow recognised political parties, willing to contest 10 per cent of the total seats, to have a common symbol for the polls.
When the state election commission asked the Delhi government to treat this matter on a priority basis, the AAP government sat on it for two years, he said.
Personalise your news feed. Follow trending topics