Mexico shows Delhi the way in public bicycle sharing
To learn and implement public bicycle sharing system, Indian cities can take a few tips from Mexico City.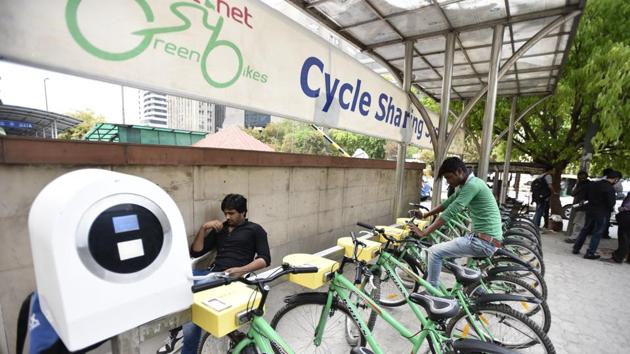 Updated on May 06, 2017 09:09 AM IST
Hindustan Times |
, New Delhi
HT Correspondent
To learn and implement public bicycle sharing system, Indian cities can take a few tips from Mexico City.
"There is not much difference what Indian metros are today and what Mexico City was 10 years back. In Delhi, when I took a cab, I sort of had a flashback. Same congestion on the roads, drivers going fast and terrifying pedestrians! If we could do it, so can you," Iván De la Lanza, the man behind the Mexico capital's public bike share system, ECOBICI, told HT on Friday.
Lanza, is in the city to be a part of Connect Karo 2017, a three-day global conference organised by World Resources Institute (WRI) India to find solutions to urban problems and push for building of more sustainable cities across India.
He spoke on a session on public bicycle sharing (PBS) systems, which are booming around the world and becoming smarter with computers and mobile communications. This system offers a flexible public transport service that involves creating a dense network of cycle rental stations where users can take and return a cycle at any station in the system.
India, too, has experimented with public bicycle sharing since a national urban transport policy in 2006 called for "moving people rather than vehicles". Many cities in India since then have experimented with pilot projects but no large scale bicycle share program has materialised.
The Delhi Master Plan 2021 has suggested cycle tracks on all roads. In 1998, experts from the Indian Institute of Technology, Delhi, led by Geetam Tiwari, had come up with a bicycle master plan for Delhi. However, proper implementation is yet to be a reality. Two cycling projects, Delhi Integrated Multi-Modal Transit System along the BRT corridor and DMRC's stands outside many Metro stations, have failed to take off with little interest from people to use bicycles.
"In the beginning no one was interested. We involved political and social influencers, sports personalities and movie stars. We started with a 4km area and now we cover 35 sq. km. For safety of riders, we have built 45km of bike lanes in three years. In terms of integration with the public transport network, 9 out of 10 bicycle trips are now combined with other mode of transport," Lanza, who now works with World Resources Institute, said.
Several Indian cities are now planning city-wide systems. Amritsar, Bhopal, Mysore, Chennai, Bhubaneswar and New Delhi are in advanced stages of planning and implementation. Bhopal is gearing up to launch its fully automated system of 500 cycles spread across 50 stations in April 2017. Even New Delhi Municipal Council has similar plans to start with 50 such stations.
However, lack of space remains the biggest issue. "Solving this space problem will be the key. The more the success stories, the more the cause will get a boost. For the operator, planner as well as the government agency," Mahesha HS, managing partner at Green Wheel Ride, said.
Public bicycle system
The Mexico city example
20 million inhabitants in greater Mexico city
9 million in the Central zone
21 million trips per day
5 million cars, buses and other vehicles
10 billion dollars annually spent to deal with traffic congestion
1,000 vehicles every 353 people
4 hours an average car commuter spends every day
70% of total trips are made by public transport
30% are made by private cars
50% of trips are equal or shorter than 8km
80% of the public space roads.
Based on this, a bicycle mobility strategy was built
16 February 2010, bicycle sharing programme launched
Now
145,000 daily bicycle trips
45% increase in the daily bike trips in the last 5 years.
6th largest system in the world, just behind other systems like Velib in Paris or Citi Bike in New York.
40 million total number of trips
230,000 annual members
35,000 daily trips from Monday to Friday.
40% women users
60% men users
6,500 bikes available daily
452 stations
35 square km area operation area
68 redistribution vehicles cover the 452 stations
170 km of segregated bicycle lanes
2 massive bike hubs
2,000 bike parking slots
45km of bike lanes in 3 years
9 out of 10 trips combined with other mode of transport
Close Story
Personalise your news feed. Follow trending topics