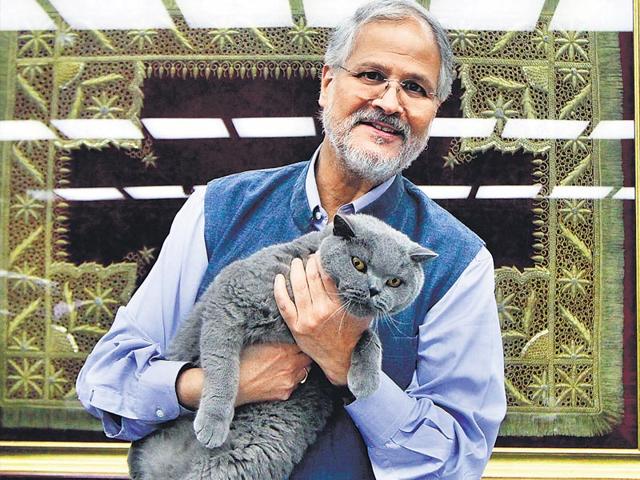 'My generation failed Dilli-6': LG Jung reminisces about Old Delhi
Born in Daryaganj in 1951, Najeeb Jung still remembers his days in Old Delhi's winding lanes. In conversation with Shivani Singh and Neha Pushkarna, he says Dilli-6 has to be revived in the next two years
Hindustan Times | By Shivani Singh and Neha Pushkarna
, New Delhi
UPDATED ON AUG 29, 2015 11:53 AM IST
Very few people have the good fortune of being born and living in a city like Delhi. It is a city with a remarkable heritage, particularly the Walled City where I grew up. We are amongst the oldest families of Delhi. My great-great grandfather came and settled in Daryaganj in 1842. Despite Partition and all the turbulence Delhi went through, we did not leave. My mother, who is 93, still lives there.
Dilli 6 - As I remember it
I went to St. Columba's School and then to St. Stephen's College. It used to take me 12 minutes to reach college on a motorcycle. I would take the inner roads. That was what Delhi was till the mid-70s. I had an uncle, an advocate, who lived in Ballimaran. He owned a Studebaker car, which he used to drive through Ballimaran, across Jama Masjid, coming through Netaji Subhash Road and reach my house in Daryaganj in less than five minutes. You could walk through the galis without any problem.
Years ago, when I appeared for the IAS interview, I was asked that being a Delhi boy, if I were to take a foreign tourist out (for sightseeing) where would that be? I said, without hesitation, I would first take him to the Walled City.
Growing up There
Dilli-6 of my childhood was bereft of caste and communalism. When asked to remember Delhi, Mir had said: Mir Ke Dino-Mazhab Ko, Kya Poochte Te Ho Un Ne To, Dair Mein Baitha, Kashka Khencha, Tark kiya Islaam Ko (People of Delhi will sit in temples, people of Delhi will sit in mosques).
Seekh kebabs of the best quality were sold on the steps of Jama Masjid.
In winters, the beautiful Edward Park, which is now called Netaji Subhash Park, was the most grandiose green area of the Walled City. It had a huge statue of Edward the Great. It was one of the most beautiful statues in the country. People did kabootarbazi and baterbazi in winters. There was a huge oak tree. We would play there for hours. Unfortunately, this park has been mutilated now.
We had 24-hour drinking water supply. And we would drink off the tap. I was born in 1951 and lived in the Walled City till 1973. There was not a single day when we didn't get water.

Read the complete series| Dilli 6: The forgotten city
Cosmopolitan Dilli
From Dilli-6, I carry an intense commitment to secularism. In Daryaganj, we didn't have many Muslim friends. My entire youth was spent celebrating festivals such as Diwali and Holi.
We grew up in a community that did not believe in manifesting its caste or religion. I really didn't know about caste till I joined the administrative service.
Dilli-6 broke class barriers for me. At school, children of ministers, bureaucrats, army officers were my classmates. But after school, when I went to play football, the pan-wala's son outside my house, the boy who sold milk to us, and the sweeper's son who was sweeping Golcha cinema were my mates. They called me by my first name and so did I. Even today, when I go to my mother's house, the pan-wala still meets me warmly.
Watch: Lt Gov Jung - Delhi then and now
Old Delhi's fading tehzeeb
I hear gruffness of voice when you talk to people. In my youth, we did not say 'tu' to anybody. It was always 'aap'. I don't hear that now. I am not blaming society so much but the pressures of life. Everybody is muscling their way today.
As a kid, I used to take bus number 7 or 21 to the Delhi Public Library across the railway station. It cost me 10 paise for a ride. I sat comfortably not pushing for space. At the library, I went straight to the Enid Blyton section, pick a book and get back in less than half an hour. I wouldn't push anybody, nobody pushed me. Now, you require muscle to get into a bus.
What went wrong?
As population grew, the richer people started moving out. Some went abroad, some sought employment in other cities. New colonies like Greater Kailash, Lajpat Nagar, etc., were getting established. As people got more educated, they sniffed their nose and said "I am going to Defence Colony; I am not going to live here". We let the city down because by shirking our responsibility. Could we have saved those havelis as people moved out? Ghalib's Haveli, at one point, had become a godown. The best of buildings in that area were transformed into commercial buildings.
Any evolved nation would have tried to make it a tourist centre. We didn't apply ourselves.
In my own home, I have seen a great grand clock. Where is it now? Probably given away to a kabadi. We didn't understand what we were losing.
Who is Responsible?
I have intense anger with myself and my generation. We became conscious of this destruction only now.
My generation and the one before ours share the responsibility of pushing Dilli-6 to this state. Somebody should have had the vision to say that it is a great heritage that we just can't play with.
It is not just Dilli-6. This decline is happening to every mofussil city in India that has grown big.
Trams: Their end and Revival
One hadn't imagined that tram would be finished one day. In my time, you could mount a tram at Jagat cinema and for 3-4 paise, you could do the circumference of old Delhi. People would imagine that with cycles and rickshaws on the way, trams would meet with accidents. But there were none. Due to growing traffic and population, perhaps, the trams could not survive. Nobody thought it was a great thing to have as heritage.
DMRC is drawing up a plan to revive trams. They will ply every two minutes.
Revival Plan
We need to protect and redeem whatever is left. The SRDC project is a magnificent one. The road from Netaji Subhash Marg to Jagat Cinema and the circumference of Jama Masjid will be cleaned. There is a plan to build a shopping arcade there.
The Edward Park that we ruined would be resurrected. The plan is to clean up the lawns across Red Fort, build a multi-storey parking at Parade Ground and restore the Gurudwara and decongest Chandni Chowk. Footpaths will be cleaned and hanging wires would go underground. If we can do it, we will be able to restore a large part of the Walled City to its past glory.
During President's rule, we were trying to work on this project in double-quick time. PWD was working very fast in cleaning up roads and moving the ca bles underground. Now it depends on the Delhi government to precipitate and advance. Whatever has to happen should happen in the next two years. Otherwise, the population will grow and our task will become much more difficult.
The momentum is there. We should latch on to it.
Going Back is Difficult
My home, my mother are there. I spend most of my weekends there as she doesn't want to leave Dilli-6 and come and live here (Raj Niwas) with me.
If I look at retirement, then in all honesty, Daryaganj is not the place I would like to retire. In fact, Delhi is not the city I would like to retire. It is a very harsh city that only cares for VIPs, where the poor have lost their voice. It is a city where money counts for a lot. That may not be best for the society.
Close