No FIR yet in YouTube 'kissing prankster' row as cops seek legal advice
Updated on Jan 09, 2017 08:34 PM IST
Police are seeking legal expertise to understand under what sections a case can be registered as none of the women in the video has lodged a formal complaint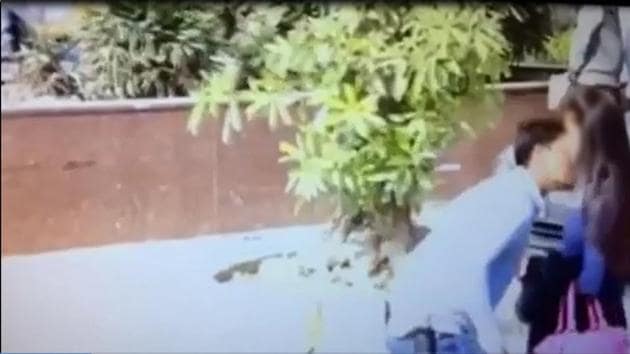 Delhi Police hasn't registered an FIR in connection with the widely shared YouTube video that showed a man kissing unsuspecting women in public in what he called a prank.
Police are seeking legal expertise to understand under what sections a case can be registered as none of the women in the video has lodged a formal complaint, senior police officers said.
"Our prime objective, as of now, is to identify the person who uploaded such objectionable videos (there were similar "pranks" uploaded earlier) and then question him why he did it," said Delhi Police spokesperson Dependra Pathak.
He said they are communicating with service providers, including YouTube and Facebook, to identify the sources through which the videos were uploaded.
Read more: Delhi Police probing man who posted YouTube 'prank' of kissing women in public
Sumit Verma, who appeared to be in his 20s, had uploaded the video on his YouTube channel 'The Crazy Sumit', calling it the "Funniest Indian YouTube prank of 2017".
In the clip, Verma was seen leaning in and kissing a woman in Connaught Place after pretending to ask her a question. He later says sorry and runs away from the spot, evading the woman as she tries to chase him. In another clip, Verma kisses a woman and makes an obscene gesture at her male friend when he tries to catch hold of him.
Pathak added that they want to understand the circumstances under which the video was uploaded. He said there were three possible scenarios:
•Verma kissed unsuspecting women against their will, which would attract criminal proceedings.
•Verma and the women were acquaintances. He kissed them with their permission, which he could have sought off screen.
•Verma and the women staged the prank to get hits on social media, in which case it could be seen as encouraging others to emulate the act.
An official said they keenly observed the technical aspects of the video. "We don't want to go wrong in this case and need of the hour is to see the criminal object also," said the official.
The video drew severe criticism on social media platforms, with a popular singer named Raftaar calling it a "disgraceful act".
Other videos by Verma, which were promptly deleted after the police reacted to the incident, included titles such as 'Seducing girl prank on dad', 'Peeing on people prank', 'Seducing girl in washroom prank' and 'Sex with girlfriend prank on mom'.
Soon after news of the police's probe broke, Verma removed all his videos and posted a new clip, apologising for his actions.
Personalise your news feed. Follow trending topics