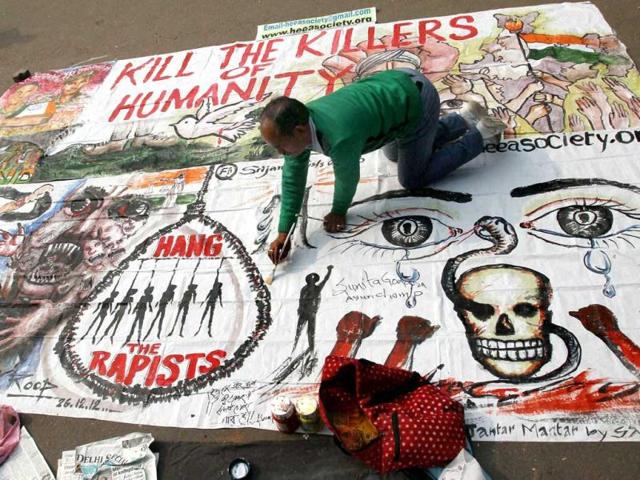 Only men can be booked for rape
Bowing to pressure from women activists, the government has decided to restore the term rape in criminal law that states only men can be booked for committing the offence against women. Nagendar Sharma reports. US honour for Delhi gang-rape victim
Hindustan Times | By Nagendar Sharma
, New Delhi
UPDATED ON MAR 06, 2013 01:26 AM IST
Bowing to pressure from women activists, the government has decided to restore the term rape in criminal law that states only men can be booked for committing the offence against women.
It has also decided to lower the age of consent for sex from 18 to 16 years.
These are fresh changes proposed by the Centre in its criminal laws (amendment) bill, which will replace the rape ordinance issued on February 3.
With the latest amendments, the UPA has belatedly accepted two more recommendations of the Justice JS Verma panel, which it had earlier rejected in the ordinance. It has retained all other major provisions made in the ordinance, including enhanced punishment for rape.
The panel — set up to look into rape laws after the December 16 Delhi gang rape — had recommended that the offence be kept gender-specific and the age for consensual sex be retained at 16 years in the Indian Penal Code (IPC). In its ordinance, however, the government replaced the term rape with sexual assault, stating that any 'person' can commit the offence.
But the latest bill, likely to be considered by cabinet on Thursday, states that only a 'man' can be accused of the offence.
Explaining the reasons behind scrapping the comprehensive and gender-neutral definition of sexual assault, which would have covered abuse by the same sex as well as paedophilia, a senior government official said: "IPC section 377 already deals with crimes involving unnatural sex and related activity. Also, some of the concerns raised by women's organizations merited serious consideration and that is what has been done."
The government is also expected to propose enhanced jail terms for those found guilty of outraging the modesty of women and using obscene gestures or words against them.
Till the time the new bill takes the form of law, the ordinance will continue to be in force.
Close