It's Kiren Rijiju again: Minister tweets video of jawan attacking Afzal sympathisers, JNU
In the video, a soldier slammed sympathisers of 2001 Parliament attack convict Afzal Guru, a section of Jawaharlal Nehru University students and critics of the Indian army's September 29 surgical strike in Pakistan-Occupied Kashmir.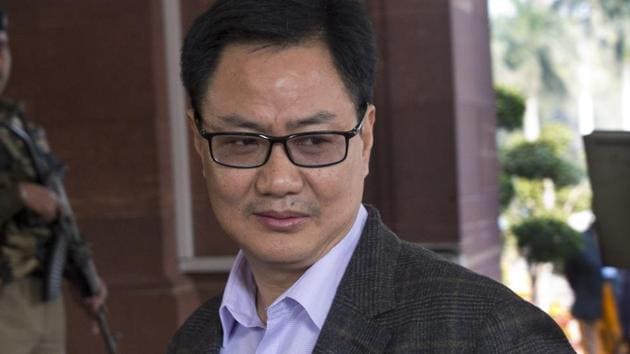 Updated on May 12, 2017 12:21 PM IST
Hindustan Times, New Delhi |
Saubhadra Chatterji and Rajesh Ahuja
Junior home minister Kiren Rijiju refueled a raging debate on nationalism, tweeting on Wednesday a video of an Indian Army soldier lecturing against a section of Jawaharlal Nehru University (JNU) students and supporters of the 2001 Parliament attack convict.
The minister, who is a BJP parliamentarian from Arunachal Pradesh, drew flak on Monday when he posted an acerbic tweet against Delhi University student Gurmehar Kaur, an army martyr's daughter, for broadcasting her dislike for the right-wing ABVP.
Rijiju dug up an old video of soldier Shriram Gorde to hit out at his critics.
"Pain runs deeper than the Ocean. Very sad that our jawans are forced to speak with heavy heart," he wrote in his message to go with the video.
Gorde is seen in the video speaking against sympathisers of the 2001 Parliament attack convict Afzal Guru, who was hanged in February 2013, JNU students who held a rally during his death anniversary last year, and critics of the army's "surgical strike" last September against militants holed up in Pakistan-occupied Kashmir.
"We don't feel sad to see Afzal Guru being hanged. But we are sad to see people chant slogans that 'Afzal hum sharminda hai, tere qatil zinda hai' (Afzal we are ashamed that your killer is still alive)," he says in the footage, referring to the controversial event at JNU that triggered a nationwide debate on nationalism.
The video is viewed as an attempt to garner public support against opposition parties and a section of Delhi University students who have been at loggerheads with the BJP-backed ABVP, which has been accused of last week's campus violence over an invite to two JNU students for a seminar in Ramjas College.
"We feel sad when thousands of people come out in support of such people (backers of Guru). I feel sad when thousands of people join the funeral procession of a terrorist," says the soldier enlisted in 9 Maratha Infantry and posted in Gujarat's Jamnagar.
The video was shot at an annual weapons display for schoolchildren on December 28 last year.
Gorde been attending the function for the past two years and gave a speech on each of the occasions, he said over the phone to Hindustan Times.
"I speak from the heart. Whatever I feel about the current situation of the country, I said in my speech. If the current atmosphere continues, the country may face another Partition. I expressed my pain," he said, explaining why he lectured on highly political and sensitive subjects that a soldier is not supposed to speak about, especially in public.
"I am a soldier for the past 13 years. I know there is code of conduct for a military man but I said what I had to say. It was cultural programme, and I just expressed what I felt deep in my heart," Gorde said.
A BSF soldier was strictly censured after he posted in January videos on Facebook showing poor quality food at his unit in Jammu and Kashmir, and accused senior officers of corruption in the supply of military rations.
But Gorde appears to have Union minister Rijiju's support for now.
Close Story