'Hit him 25 times with sandal': Sena MP says he assaulted 60-year-old AI staffer
Mar 23, 2017 09:42 PM IST
Shiv Sena MP Ravindra Gaikwad allegedly beat up Air India staff with slippers on board a flight from Pune to Delhi because his seat was changed from business to economy.
High drama was witnessed on a Pune-Delhi Air India flight soon after it landed at the Indira Gandhi International Airport (IGIA) on Thursday morning as Shiv Sena Lok Sabha MP Ravindra Gaikwad allegedly hit a 60-year-old airline staffer with slippers.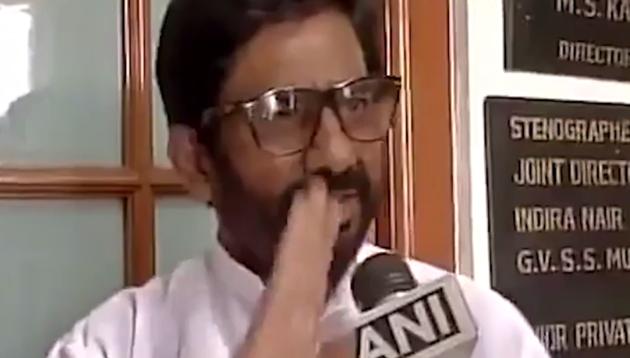 The MP was angry allegedly because Air India changed his seat from the business to economy class.
The staffer has been identified as R Sukumar, a 60-year-old duty manager. While he has filed a complaint to Delhi Police, Air India has also launched an inquiry. Sources say Shiv Sena Chief Uddhav Thackeray has summoned Gaikwad to Mumbai.
"The incident was reported from Air India flight AI 852 (Pune-Delhi), in which MP Ravindra Gaikwad was travelling. The flight landed around 10 am but the MP refused to de-board. When airline security staff was called and he got angry and started beating them with slippers," said an airport source. "We have formed a committee to probe the matter and appropriate action will be taken after the report," said a Air India spokesperson.
ANI reported Gaikwad as saying that he hit the staff "25 times".
"What did he (the AI official) say...Yes, I beat him with a sandal 25 times. Should I tolerate abuses from the media, from the company (Air India) just because I am an MP?," Gaikwad told ANI.
"I told him (the official) that I have given a complaint to the airhostess, you should refer to that. I am not going to repeat my complaint to whoever comes to ask about it. I asked him to call a senior who could resolve the issue but he said no, I will look into it," the MP from Osmanabad in Maharashtra said.
"I slapped him...Should I hear abuses from everyone. I am from Shiv Sena not BJP. Let him complain to anyone. I will give my complaint to the Lok Sabha Speaker," the MP said.
An Air India official said that the MP was booked in business class but the airline changed the flight to an all-economy aircraft. The MP's personal secretary in Delhi was informed about the change of aircraft and offered a cancellation .
But the MP reached Pune airport and boarded the plane.
"The duty manager R Sukumar, 60, was called and he started convincing him. The MP started shouting at him, snatched his glasses and pushed him to the ground. He fell down and the MP started beating him with slippers. The airport manager, a former hockey player, rushed and saved him," said an Air India official.